Baby Hippo Makes Debut at Gladys Porter Zoo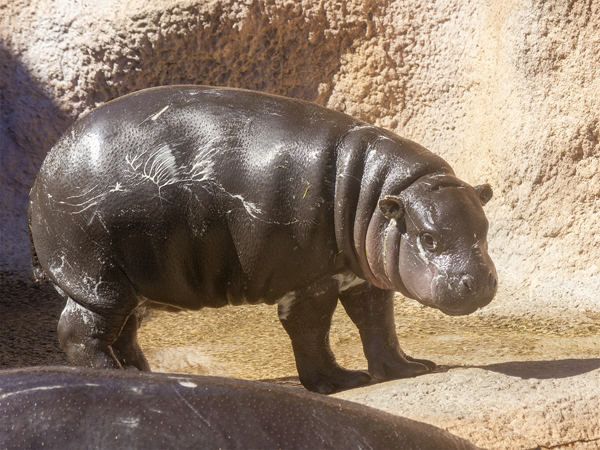 The Gladys Porter Zoo welcomed a baby pygmy hippo to the animal collection on October 30, 2018. The baby hippo made her public debut on April, 10th 2019. Visitors can now see the baby on exhibit with its mother, Clover. The baby's sex has not yet been confirmed by veterinary staff but pygmy hippo keeper, Rolando Gracia, believes that the baby is a female.
"She's doing very well and mom is taking good care of her", states Gracia. At 5 months of age, the baby is curious and playful but also stays within close proximity to its mother.
In the wild, pygmy hippos are primarily solitary animals except when females are accompanied by young. Despite spending most of their time alone, pygmy hippos are not known to be aggressive when coming into contact with other hippos.
Pygmy hippos are listed as endangered by the IUCN Red List. There is believed to be between 2,000-3,000 mature pygmy hippos in the wild and the population continues to decline. Their main threat in the wild is the loss of habitat due to human activity.
For more information, please contact the public relations department at (956) 546-7187.