May Happenings at the Zoo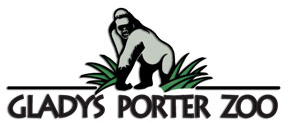 Measuring Up!
Saturday, May 11th
How do you find out how long a snake is and how much it weighs? Help measure and weigh some of the zoo animals. Enroll your child for Saturday morning fun at the Zoo. Parents can join, too. Safaris begin at 10:00 a.m. and end at 12:00 p.m. Zoo tour; snack, materials and supplies are included in each class. Fee is $15.00 per child (ages 4 and up) or adult and Zoo members get a $5.00 discount. To register your child for a class please call our Education Department at 956-548-WILD (9453) or download a registration form at www.gpz.org. Registration is required.
Texas Hold'em Poker Tournament
Thursday, May 16th
On Thursday, May 16, 2013, the Gladys Porter Zoo will be hosting a charity Texas Hold'em Poker Tournament. Proceeds from the event will benefit the Zoo's capital campaign projects. Currently, the Zoo has two major construction projects underway, the Russell Aquatic Ecology Center and South Texas Discovery Center. Grand Prize -Trip to Las Vegas includes airfare for two to Las Vegas, Nevada and two-night hotel stay. For more information, visit www.gpz.org or call (956) 546-7187.
Animal Play Day
Sunday, May 19th
Come watch as zookeepers give our animals a special enrichment item, SUNFLOWERS, in celebration of mother's day. Enrichment items will be handed out in various forms, in animal exhibits throughout Zoo. The event is free with regular paid admission. Animal Play Days are scheduled events where Zoo animals are given an enrichment item that has a specific theme. Animal enrichment provides novel food and play items to stimulate and entertain zoo inhabitants. It is performed on a daily basis at the Zoo and is a vital component essential to the health and well-being of our animal collection. Starting at 11:30 AM at the Gorillas, staff will walk around the zoo giving enrichment items to all animals. For more information, visit www.gpz.org or call (956) 546-7187.