Los Fresnos student selected for International Career Developement Conference 2021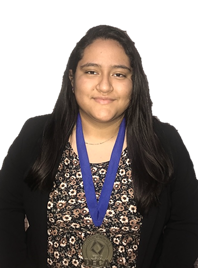 By James Minson
LFN
With nearly a 75-year history, DECA has impacted the lives of more than ten million students, educators, school administrators and business professionals since it was founded in 1946. Their strong connection with our organization has resonated into a brand that people identify as a remarkable experience in the preparation of emerging leaders and entrepreneurs. DECA's programs and activities have constantly evolved as we use the latest technology and apply cutting edge educational research. Our core focus has remained consistent and is captured in our mission.
Katia Mendoza, a local high school student will be representing Los Fresnos high school and Texas DECA District 1 in the International Career Developement Conference in 2021.
Texas is made up of many DECA Districts. All of the RGV is located in District 1. Katia will not only be representing Los Fresnos, she will be representing the RGV! 750 of 3,600 students will be representing at the international level among an estemated 11,000 competitors accross the nation. There was only one trophy winner that advanced from District 1. That is what makes Katia so special. If you see her, congratulate her!