One Step at a Time
Local high school graduate begins her nursing career at TSC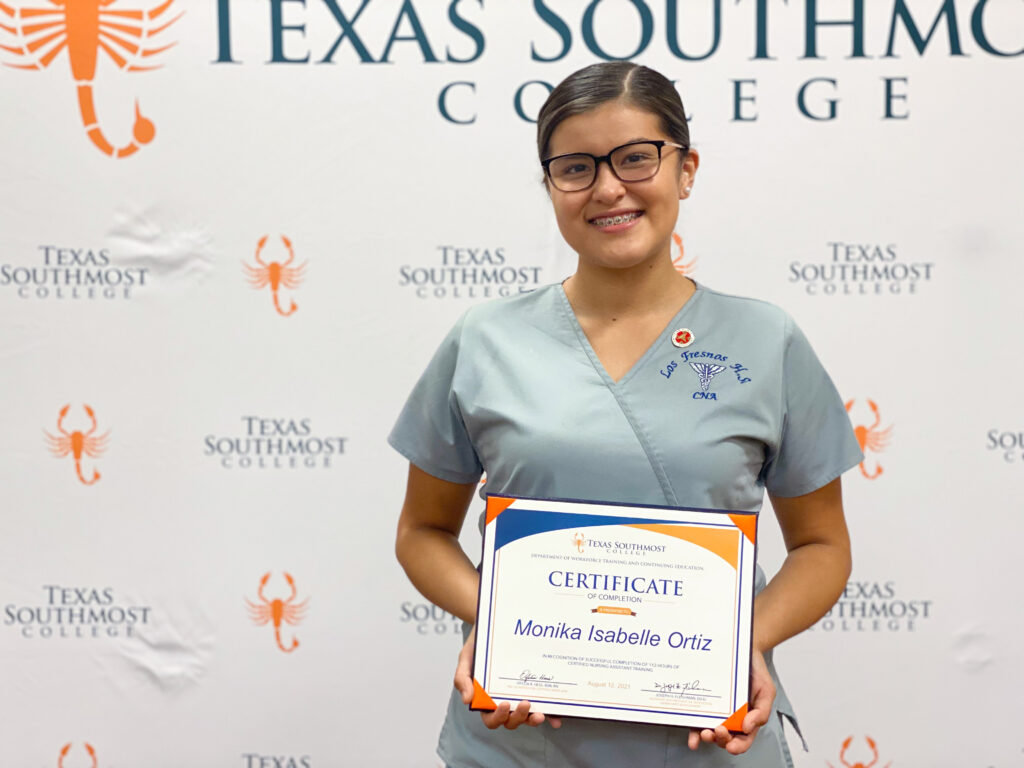 BROWNSVILLE, Texas (September 17, 2021) – Monika Ortiz took a leap in getting ahead in her career this year when, as a high school student, she decided to enroll in the Certified Nursing Assistant program at Texas Southmost College.
And this summer, she earned her certificate, officially beginning her nursing assistant career.
"It's such a great feeling knowing that I was able to prove to myself that I could do this," said the 18-year-old. "And the fact that TSC gives us this type of opportunity, so young, means a lot. I'm really grateful that I got this chance."
The Los Fresnos High School graduate said she thought earning this certification in high school would be a good start and would solidify her career decision.
"This has just fueled my passion for nursing even more," said Ortiz. "I know for sure that this is what I want do in life."
Growing up, Ortiz had her mind set on being a teacher, but as family members became ill, some even diagnosed with cancer, she got a first-hand look at the work every nurse who cared for her loved ones did and just how much of a difference they were making.
"Everyone that cared for our family during these difficult times were so helpful," she said. "They were empathetic, compassionate and passionate, and it showed in their care. I knew right then and there that this was my calling too."
However, Ortiz said she hasn't given up on teaching just yet.
"As a nurse, I get to care for others, lend a hand, but I also get to teach them about health and wellness," she said. "It's a perfect blend."
So, after numerous hours in the classroom and in clinical settings, Ortiz is on her way to working in the field of nursing, while pursuing her bachelor's degree at a local university.
"Because of the CNA program, I am so much more confident beginning my journey as a university student," said Ortiz. "From classroom and lab to hospital settings, I was exposed to everything that comes with being a nursing assistant and then some. It's really difficult to explain how impactful it all was."
Ortiz's dream is to become a nurse specializing in oncology or neurology, and she said TSC helped give her a brighter outlook.
"TSC's CNA program allowed me to grow up, change my mentality about what it really means to be a nurse and learn about personal responsibility," she said. "There are lives in my hands as a nurse and connections to be made with patients, it's a lot more than what someone sees on "Grey's Anatomy," and I'm in this for the long run. This is where I'm supposed to be."
Ortiz was one of four Los Fresnos High School graduates who received their certification as a nursing assistant from TSC this summer.
After being honored for her achievement at a recent pinning ceremony hosted by TSC's CNA program, she is officially welcomed into the profession and ready to take the journey toward becoming a registered nurse one step at a time.