Merry Christmas from Grace Heritage Ranch
Updated: December 23, 2014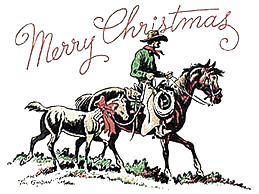 All of us at Grace Heritage Ranch would like to take this time to wish you all a very merry and blessed Christmas!  Thank you for your support and encouragement to us this past year.  We pass along to you a written narrative of a video titled "The Paradox of Christmas".  Reflect upon the words below that seem to be contradictory, but are nonetheless, true.
"Two thousand years ago, in the small town of Bethlehem, one silent night loudly proclaimed God's love for the entire world.  For, our all powerful God came to earth in the form of a helpless child.  And though many people had waited for His coming, few actually noticed this baby's arrival.  So much so, that there was no room for Him that night… in the world which He had made.
But still, He came.  He who was divine became human.  He traded in His heavenly seat for an earthly manger.  He exchanged robes of splendor for swaddling clothes.  He left the songs of a multitude of angels for the praises of a few humble shepherds.  That night, though Jesus left His throne, He became our King:  a King who came not to be served, but to serve; a King, whose death would bring us life; a King, whose single sacrifice would serve as the ransom for us all.  So, it is the paradox of Christmas that calls you to respond.  Though there are presents still waiting for you to receive, this season is truly about the gift… that you have already been given."
Again, we hope you have an enjoyable time with family and friends.  While we enjoy that blessing, let's keep those in prayer who are away from family defending our country either here or around the world and those on the "front lines" protecting us daily in our communities.  Christmas Blessings to you all!
Brian and Mary Schalk
Owners
Grace Heritage Ranch