FCCLA Marches with Memorial Banner at Foundation 5K Walk/Run
Updated: October 30, 2015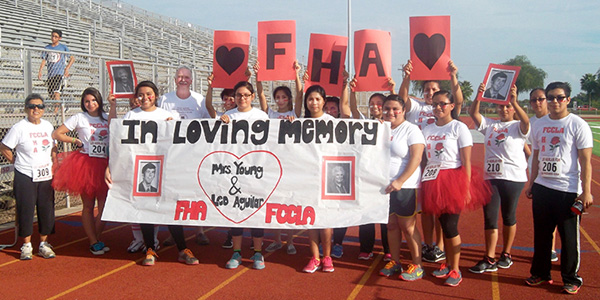 The group drawing the biggest audience at the 6th Annual Leo Aguilar Foundation 5K Walk/Run finished near the end. Their objective was to finish the 3.1 miles.
About 18 members of the Los Fresnos Family Career and Community Leaders of America (FCCLA) participated in the event in the memory of Mrs. Mildred Young, a former club sponsor.
Mrs. Young taught for over 42 years – 39 of which at Los Fresnos CISD as a Home Economics teacher. Young was the club sponsor for Future Homemakers of America (FHA), which later became FCCLA. Young was a strong supporter of the club and spent tireless hours planning events, and preparing students for various competitions.
Her son, David Young, is employed as Chief Financial Officer for the Los Fresnos CISD. Her dedication and caring demeanor will never be forgotten.
The club also recognized and honored stadium namesake Leo Aguilar during the event. In the fall of 1970, Aguilar was elected FHA Sweetheart Beau.
The club walked with a banner decorated with pictures of both along with the phrase "In Loving Memory of Mrs. Young and Leo Aguilar."
Some FCCLA club members were also joined in the walk/run by their parents, relatives and their teachers, including club sponsor Elizabeth Capps, and Family and Consumer Sciences teacher Alice Garza.
The students tremendously enjoyed participating and felt that this event fully embodied the spirit of strengthening families and building community harmony which is one of the many purposes of FCCLA.