Falcons Season Ends In Re-Match Loss To Lake Travis
Updated: December 15, 2017
Athletic Director Patrick Brown Praises Student Athletes and Fans for Effort and Support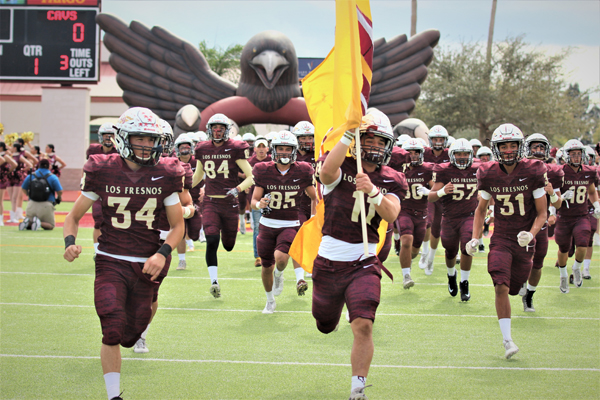 by Victor Moreno, LFN • photos by Ricki's Photos
The Falcons football season officially came to an end with a 42-7 loss in a re-match with the previous years challenger Austin Lake Travis.
Excitement was in the air as the Los Fresnos community had prepared for its first third-round home playoff game at Leo Aguilar Memorial Stadium for the first time in school history.
Though the playoff game resulted in a home loss there is much to draw on the season considering an improved record of 9-4 from 8-5 the previous year. Add to that the small number of returning starters and the experience level of a seemingly new team to reach the third round of playoff competition was impressive.
"Our community support throughout the year has been tremendous!" stated Athletic Director and Head Coach Patrick Brown.
"And we started the season with a loss to Edcouch which we shouldn't have had and instead of not coming to our next game, we packed the stadium and that's the kind of fans that we have."
"I think we're one of the few schools that have loyal fans no matter what. They stuck with us through thick and thin and I was very proud of how the season turned out especially after only having two returning offensive starters and four returning defensive starters, to rebuild our whole team especially our offensive line is just really a special special deal."
One of the two returning receivers was a sophomore that had started as a freshman and there were no linemen, running backs or quarterbacks as returning starters this year so a lot of credit went to the offensive coordinator and offensive line coaches for getting a young offense ready to play at the level they did.
"Our expectation is that at some point we're going to compete for a State Championship, I mean it's nice getting to the third round but I think all of us expect and want to do more than that," said Brown
The Falcons expect to have six returning offensive and six defensive starters next season and the fact that both JV teams won district – freshman dark team placed second in district and freshman light team won district – just adds to the excitement of Falcons football for next season.