The Big Squeeze Accordion Auditions Set for March 30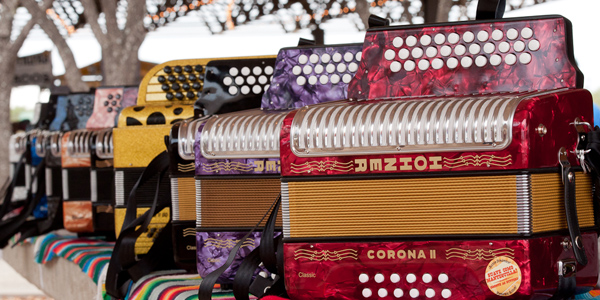 Texas Folklife will hold auditions for The Big Squeeze Accordion Contest at 3 p.m. Saturday, March 30, at Los Fresnos High School. Admission is free.
The audition for the amateur competition is the eighth and final one for the contest, sponsored by Texas Folklife Festival. The festival is seeking up-and-coming Texan accordion players 21 years of age and younger.
Eight auditions are scheduled throughout Texas, including March 2 in Edinburg. The Los Fresnos audition is the finale of the eight.
Ten participants from the auditions will be invited to the state semifinals April 20 in Austin. Four there will be invited to the Seventh Annual Accordion Kings and Queens Big Festival June 1 in Houston to determine a champion.
All participants will be videotaped. Selection of those invited to the semifinals will be determined by the Texas Folklife Festival in Austin at a later date. Contest rules are available at www.texasfolklife.org.
Juan Longoria is instructor for LFHS students through the Theatre Arts program. Longoria won the first Big Squeeze State Championship in 2007 at the age of 25 when the age limit was 26. The age limit has since been dropped to 21.
Five LFHS students will audition, while many more from Brownsville, San Benito, and Edcouch-Elsa are expected to participate. Longoria's son, 12-year-old Juan Longoria III from Resaca Middle School, will also participate. He qualified to the semifinals in 2012.
Longoria will perform a musical exhibition at the end of the event, accompanied by his band Conteño. He will also describe the accordion's rich cultural ties to South Texas.
Sixteen-year-old Peter Anzaldua, the 2012 Big Squeeze champion from Brownsville, will also perform. Anzaldua is a student at Brownsville Veterans Memorial High School.
Texas Folklife endeavors to preserve and promote Texas's diverse cultural heritage and looks for great players in any genre of accordion-based music, including zydeco; Cajun; German, Czech, and Polish polka; Tejano; conjunto; and norteño; as well as other genres.