UTRGV STUDY ABROAD: Brazil
Students Embrace Living in the Moment
'Study abroad changes you as a person, changes your perspectives, changes the way you see and the way you learn things in your major.' – UTRGV graduate student Linda Torres
by Maria Elena Hernandez
RIO GRANDE VALLEY, TEXAS – Linda Torres, a graduate student at The University of Texas Rio Grande Valley, ziplined over the mountains of Brazil this May.
Did we mention that Torres is afraid of heights?
"I don't even know how I got in the zipline," said the Brownsville native majoring in counseling and guidance. "I could see the mountains and the trees. I don't know how to explain it. It was just life-changing."
Torres was one of nine students who traveled to Brazil for a study abroad course in cross-cultural psychology.
"We went to southern Brazil, where there's a huge mix of cultures. Southern Brazil was mostly colonized by Germans and Italians, and Portuguese, as well," said Camilla Montoya, the UTRGV psychology department lecturer who led the class.
The region is also where Montoya is originally from.
"I'm Brazilian," she said. "Most people don't think I am just by looking at me."
BLENDING IN
That reality led to one of the students' first lesson about the culture.
"Anyone really could be a Brazilian," Montoya said. "I looked at them and said, 'Every single one of you could pass for Brazilian.'"
Denisse Hernandez, of Reynosa, Mexico, is a UTRGV Mass Communications focusing on advertising and public relations. She and the other students very quickly learned that lesson about stereotyping based on physical attributes.
"The Brazilians came in different shapes, sizes, skin colors, hair colors – everything," she said. "We would be courteous with the little Portuguese we knew. But when they would try to establish a conversation, they would be like, 'Oh, you guys aren't from here.'"
FIRST-HAND EXPERIENCES
Another early discovery in the course was what the students would not be able to share with their family and friends back home.
"We're sitting at this amazing restaurant," Montoya said, "where one of the students said, 'You know, I could take a million pictures of these plates. And I could make as many videos as I wanted and send them to my mom. And she would never know what it tastes like.'
"And to me, that really hit home – the importance of experiential learning, the importance of experiencing things instead of just seeing them through photos and videos."
Hernandez agreed, saying she enjoyed the chance to learn outside of a classroom.
"You're actually going out there, experimenting, seeing things for yourself," she said. "It really opens your mind. It makes you feel more prepared for the future."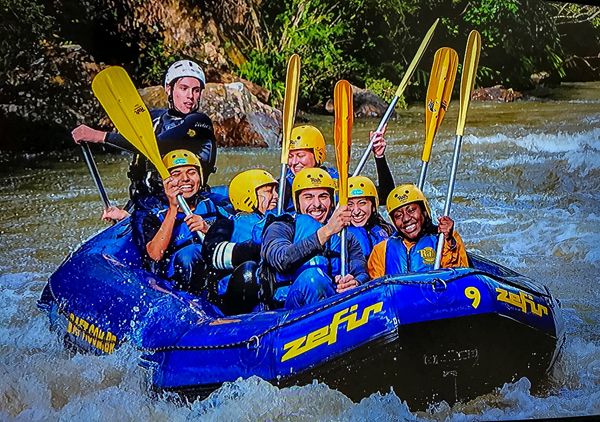 CHANGING PERSPECTIVES
Torres said that, while the class focused on differences in cultures and included daily journals and group presentations, there was also a lot of introspection.
"Study abroad changes you as a person, changes your perspectives, changes the way you see and the way you learn things in your major," she said. "You have a lot of stuff going on in your mind, and while we were there we just kind of forgot about everything. We were just there, focused. We were living in the moment."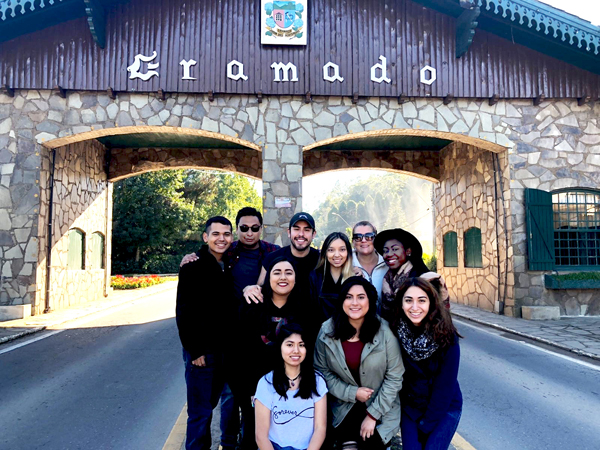 NEW FRIENDS, NEW ADVENTURES
Montoya said the student on the Brazil trip experience an amazing amount of personal growth in two weeks
"No one knew each other before the trip, and they're an amazing group of friends now. They're already planning a trip together as a group for next summer," she said.
UTRGV STUDENTS – STUDY ABROAD, BRAZIL
Justin De Leon, junior, nursing major.
Aimaloghi Eromosele, sophomore, biology major.
Zarai Espinoza, junior, psychology major.
Jose Garcia, senior, psychology major.
Ana Garza, junior, psychology/early care and early childhood major.
Amanda Gomez, sophomore, psychology major.
Dennise Hernandez, senior, communications major.
Efrain Martinez, senior, psychology major.
Linda Torres, graduate student, psychology major.