Cuzco, Choquequirao, Salkantay: Students Embrace Extreme Andean Travel
by Dr. Robert Bradley
RIO GRANDE VALLEY, TEXAS – UTRGV students tackled a challenging study abroad curriculum in Peru in June that included art, architecture, history and biology – and an extreme, rigorous trek in the Andes.
UTRGV continues a long tradition of offering Peru study abroad programs, always focused on a mix of opportunities meant to push students beyond what they believe they can do both physically and intellectually. This year, from June 5 to June 28, UTRGV students in three courses of study in Peru did just that. All three classes were in Peru at the same time and followed roughly the same itinerary.
Dr. Katherine McAllen, assistant professor in the School of Art, College of Fine Arts, led a class that covered the colonial art and architecture of Peru.
Dr. Mark Andersen, dean of the UTRGV Honors College, led a biology class that highlighted Peru's alpine and cloud forest flora and fauna.
And a course led by Dr. Robert Bradley, associate professor in the School of Art, College of Fine Arts, emphasized the region's history of Inca art and architecture.
The ambitious agenda included a journey into the Apurimac Canyon to visit the enigmatic Inca site of Choquequirao, lauded as Lonely Planet's number one travel destination in 2017. The visit requires a daunting mile descent and ascent in, then another mile descent and ascent out.
That was followed by a challenging trek across the Salkantay Pass – at 15,200 feet above sea level – which ultimately would place the students at Machu Picchu.
Veteran guides were a husband and wife team, Gladys Jiménez, an alpinist originally from Yungay, and Jim Sykes, an expatriate birder and musician from Seattle. They led the group with support from the community of Huilloc in the form of local guides Isaac Riquelme Mamani, Juan de Dios Riquelme Usca, Eloy Puma Echame and Americo Yupanqui Quispe.
Last season, the village had signed a Memorandum of Understanding with Andersen and the UTRGV Honors College, and this year again they provided exceptional support for the UTRGV study abroad program.
Most of the students on the trip had never wandered far from the flat floodplain of the Rio Grande Valley, or had taken only brief family visits to the other side of the border with Mexico.
Everyone said they struggled on the treks, but the rewards were substantial and important.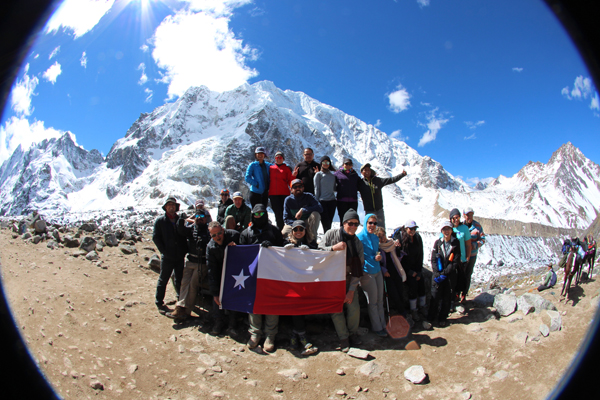 "Of all the landmarks and the places we visited, Choquequirao was the most strenuous and breathtaking," said UTRGV art graduate student Jesmil Maldonado Rodríguez. "It was not just a journey and a hike; it was self-discovery."
UTRGV School of Art graduate student Carlos Limas said the first issue was getting acclimatized.
"The altitude was challenging," he said. "Of course, my asthma and weight worked against me, but little by little and with a lot of self-motivation, I pulled through."
He said the list of places visited, and the details of how he felt at each one, would fill a book.
"But I can say this: There were a lot of incidents, some good, some not so good, but at the end, I feel we accomplished something as a group and as individuals. I saw people competing all the time, but I also saw people's compassion for others during hard treks. I saw tears of pain, but also tears of joy.
"Traveling in a group is not easy," Limas said, "but it is clear to me that we got to Peru as almost complete strangers, and we went back home as good friends."
Art graduate student Leti Lowery Garcilaso said it was a constant scramble to conquer loose gravel, steep hills, mud and bugs to finally reach Choquequirao.
"I can't describe the feeling, after two and a half days of that, to arrive at that magical place. It was so peaceful, so imposing. Terraces loom over incredible views of the valley and river below. It didn't matter if you had vertigo – like I do – this place makes you forget about it," she said.
Maraya Garcia, a UTRGV undergraduate pre-med biology major, summed up the experience.
"I am not an outdoorsy type of person," she said. "But there I was, spending an entire month in a summer study abroad program in Peru. Bearing the heat and the cold. Exhausted to the bone and festered in bug bites. With a sore body, but a jubilant soul.
"Never in a million years did I think hiking the Peruvian Andes was just the answer I was looking for. There in the insurmountable beauty of nature, I felt something within myself click into place."
STUDENTS ON THE STUDY ABROAD TRIP TO PERU
Undergraduate Students
Odalys Almanza, Honors College, Rehabilitation Services and Counseling, Brownsville.
Maraya Garcia, Honors College, Biology, Edinburg.
Serrina-Jo Guerra, Mathematics, McAllen.
Vanessa Guerra, Honors College, Biology, Mission.
Mario Lujano, Honors College, History, Edinburg.
Salma Ruiz Sandoval, Honors College, Biology, Mission.
Nydia Salinas, School of Art, Progreso.
Ana Cristal Muñoz Arámbula, international business major, Mission.
Ana G. López, theater design major, Brownsville.
Graduate Students
Jaime Sauceda, Communication, Edinburg.
Laura Briseño, School of Art, Mercedes.
Christian Hanks, Economics, McAllen.
Maria Lai, School of Art, Brownsville.
Carol Lopez, School of Art, Mission.
Leticia Lowry-Garcilazo, School of Art, McAllen.
Robert Ruiz, School of Art, Brownsville.
Jesmil Maldonado, School of Art, Edinburg.
Carlos Limas, School of Art, Pharr.
Cristina Correa, School of Art, Weslaco.