Rancho Viejo rocks to the Beatles' music
Updated: February 21, 2020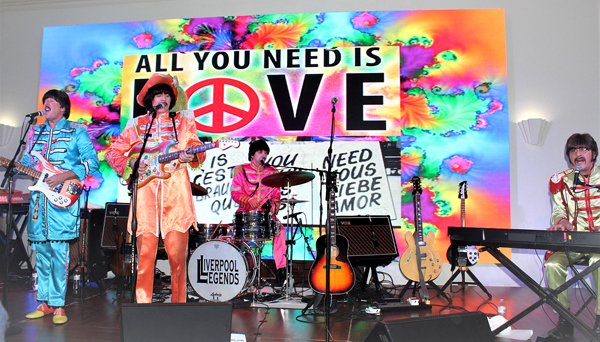 By TONY VINDELL / LFN
The usually quiet town of Rancho Viejo was twisting and shouting for one night earlier this month.
Its resort and country club, known for having one of the Rio Grande Valley's best golf courses, became a place where people of all ages danced and sang the night away as a group called the Liverpool Legends paid a tribute to legendary rock 'n ' roll band The Beatles during a concert dinner/buffet held Feb. 7.
The quartet entertained a crowd of around 300 people for about two hours, playing some of the quartet's best-known tunes.
They included "Yellow Submarine, "Let It Be," "I Wanna Hold Your Hand," "She Loves You," "Can't Buy Me Love," "Just Seventeen," "Help," "Day Tripper," "Saw Her Standing," and "A Hard Day's Night."
Many in the audience, including a number of teenagers, sang along to most of the tunes.
But when the Fab Four played Twist and Shout, many people stood up and began shaking and twisting.
The lively atmosphere continued as the show went on.
Among those in attendance were Michael and Teresa Musgrove of Harlingen, and Jose and Carmen Hernandez of Harlingen.
The two couples said they grew up listening to The Beatles music and were glad to be at the event.
"I saw the group last year," Michael Musgrove said. "They are great."
The Hernandezes said they wished more shows like the one they saw would be held in this part of the Rio Grande Valley.
Tony McDermot, the resort and country club general manager, said the club is indeed planning on hosting more events like the Liverpool Legends.
In the past, the club has hosted Elton John, Cher and Juan Gabriel impersonators, among others.
Rancho Viejo is located within minutes from Los Fresnos and less than 30 minutes from Harlingen and Brownsville.