Los Fresnos rodeo, livestock show and fair draws big crowds
Updated: February 28, 2020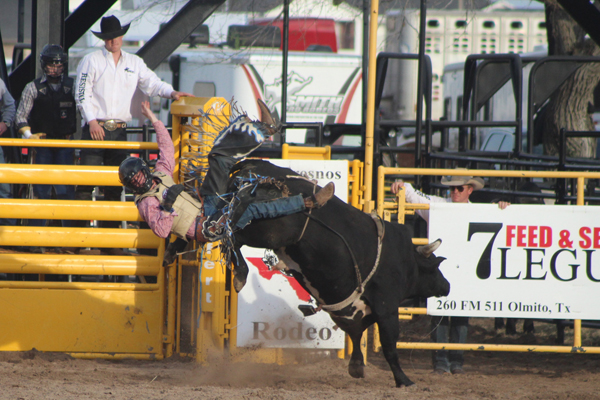 By TONY VINDELL / LFN
With the exception of a close encounter with a 1,000-plus pound bull that hit a rider three times, the 31st annual Los Fresnos Rodeo went off without a hitch.
A record crowd attended the rodeo, which was Feb. 14-16. The shows on Feb. 14 and Feb. 16 were close to full capacity.
Rodeo announcer Andy Stewart said the "Best Little Rodeo in Texas" was as good as it gets, as many of the participants are some of the world's best.
The three-day rodeo and Cameron County Livestock Show & Fair keep getting bigger, and many of the attendees and participants said they will come back.
A local family that sold brisket sandwiches, said they keep noticing how everything keeps getting bigger and bigger over the years.
"The first time we were here 10 years ago, we cooked about eight briskets," Melissa Chavira said. "This time we cooked 15."
She said their best day was Saturday as they sold every single sandwich they had prepared.
Chavira said Friday was a little slow attributing that to Valentine's Day and to the cool temperatures.
But on Sunday, they only had less than a dozen sandwiches as the rodeo crowd started coming out of the bull ring.
At the county fair, thousands of people could be seen buying food, merchandise on display set up by vendors and in the carnival section where screaming eagles were aboard the fast moving metallic machines.
Sitting inside one of the many boxed seat areas, Billy R. Bradford and about 10 others watched the rodeo as they indulged in nachos and other snacks.
"We have been coming here since the first rodeo was held here 31 years ago," Bradford said. "We have always enjoyed coming and have supported this rodeo event."
Bradford was with Hayne & Co., a Brownsville certified public accounting firm that this year brought Hale-Bradford CPA under its wing.
Rodeo newcomers Juan and Ana Izaguirre said this was their first time at the rodeo, and they loved it.
A group of Winter Texans that called themselves Michiganders, said the show was great.
"There is a lot of entertainment here," Sally McCoy said. "I love the mutton busting."
The Michigan resident said some of their friends came from as far as 150 miles away to join them.
"We stay in Zapata for the winter," said her friend Irene O'Boyle. "We came down to see them and to watch the rodeo."