Cameron County residents ordered to shelter in place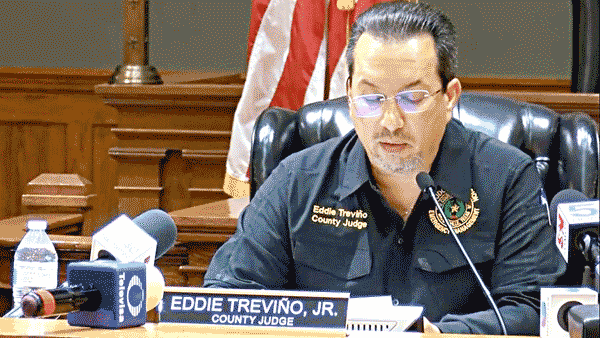 By DAVE FAVILA
LFN
On March 23, Cameron County Judge Eddie Trevino Jr. mandated a county-wide shelter in place order to help protect residents from the spread of the COVID-19 virus.
Under the mandate, which officially went into place on Wednesday, March 25, all individuals living in Cameron County were ordered to shelter at their place of residence for a period of 14 days. The mandate is set to expire on April 8, unless otherwise extended or rescinded.
The order essentially expanded on an earlier mandate that established a curfew for all residents, which runs from midnight to 5 a.m. each day.
Judge Trevino said he ordered this latest mandate out of an abundance of caution, and for the protection and safety of all during this difficult time.
However, citizens need to understand that while they are being ordered to shelter in place, this does not mean that they cannot go to the grocery store or run essential errands.
"Grocery stores, pharmacies, gas stations and banks will continue to stay open during this 14-day period," Judge Trevino said.
And while non-essential businesses are being encouraged to have their employees remain home during this mandate, there are several businesses that have been deemed "essential" and will remain open, such as restaurants and fast-food franchises, although they must continue to abide by the statewide mandate that limits them to drive-thru or carryout orders for the time being and they must close no later than 10 p.m.
Other exempt businesses and services include: hardware stores, plumbers, electricians, exterminators, HVAC repairs, landscaping and pool cleaning services, business providing mailing and shipping services, laundromats, dry cleaners and laundry service providers, business that provide supplies needed to work from home, transportation services, legal or accounting services, and news and media services.
People are also allowed to leave their homes to engage in essential tasks such as going to the grocery store, engaging in outdoor activities provided individuals comply with the social distancing requirements, and traveling to care for elderly, minors, defendants, persons with disabilities or other vulnerable persons.
The purpose of this order is not meant to restrict people's freedom, but rather to limit the number of people who might be exposed to the virus, Trevino said.