New fishing pier on SPI hits another unexpected delay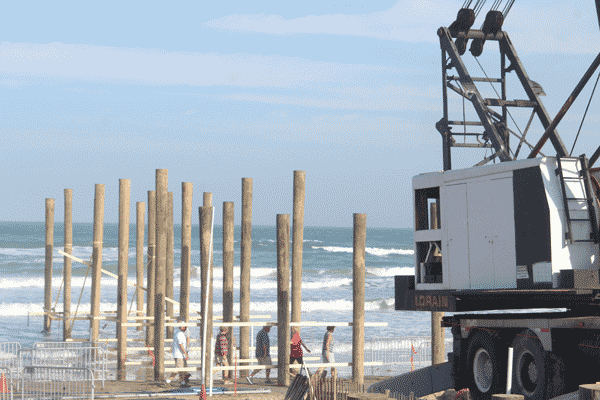 By TONY VINDELL
LFN
SOUTH PADRE ISLAND – Construction of the newest fishing pier along the Texas Gulf Coast has come to a halt, partly because of the coronavirus outbreak as those working on the project have gone home.
The 1,000-foot pier, which is under construction next to Clayton's Beach Bar and Grill on South Padre Island, had already been held up because of environmental and conservation issues.
The turtle nesting season was one of the factors for the delay as building the pier over the beach was to be suspended through October. Construction on the other end of the facility, however, was to continue.
The pier is a project of Clayton Brashear, a Brownsville business entrepreneur who owns the establishment that bears his name.
The pier is being built to the right of the hangout that has become popular among Winter Texans and Spring Breakers.
Brashear said he looked at piers in Corpus Christi and in Galveston to get an idea about what he wanted, and talked to people in those two cities.
"I was told there are no people down here and why I was doing this," he said on a recent day that he was overseeing construction. "I said they are crazy. We have more than a million people coming to the island every year."
Brashear said his idea about having a pier is to provide another venue to his Winter Texans clientele and people from throughout the Rio Grande Valley and elsewhere.
He said building the pier will take more time than anticipated because the work had to come to a stop during the annual turtle nesting season.
"I was told to stop with much of the work from March 15 through October," he said. "We will continue building the pier, but not to the extent we started doing it."
The pier will become the second one in the Laguna Madre area. Port Isabel has the Pirate's Landing Fishing Pier, a 1,500-foot platform originally built about 40 years ago.
Piers are popular among fishing enthusiasts as many of them are usually open 24/7 and their entry fees are relatively cheap, ranging from $5 to $12 for the right to fish along the dozens of public piers on the gulf coast.
Fish species caught from a pier includes speckled trout, black drum, sand trout and mangrove snapper, as well as the always hungry piggy perch.