Hurricane season could spell double trouble combined with COVID-19 pandemic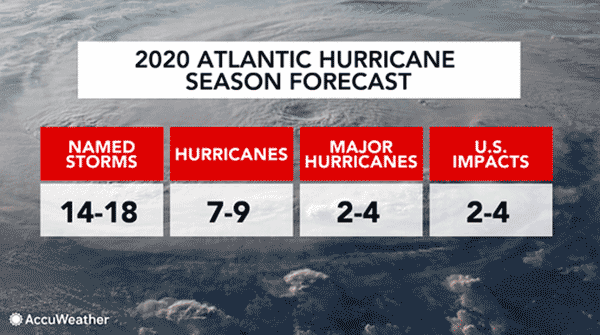 By NELDA BRIONES
LFN
Recently Dr. Philip Klotzbach and his team of meteorologists at Colorado State University predicted that the 2020 Atlantic hurricane season was going to be a very active one and could bring as many as 16 named storms.
The team predicted an above-average season, which has about 12 named storms. Dr. Klotzbach looked at the sea surface temperatures in the Atlantic and they are already running quite a bit above average. Warm water is one of the main components needed to form a hurricane and with plenty of it, a few more storms may be able to feed off it.
Right now, early climate signals are raising red flags that El Nino will be a no show this hurricane season. The American Global Forecast System has been showing a cooling trend, which is more consistent with a neutral or La Nina pattern.
Even though hurricane season doesn't start until June 1 that doesn't mean a storm can't occur off season. According to Wikipedia, offseason storms are most likely to occur in May, with approximately 60 percent of such storms occurring during that month. As of 2020, there have been 87 offseason cyclones in the Atlantic hurricane database, which began in 1851.
According to weather.gov, tropical storm Beryl was the strongest offseason Atlantic tropical cyclone to make landfall in the United States on record. On May 27, 2012, Beryl transitioned into a tropical cyclone while less than 120 miles from north Florida, and on May 28, the storm moved ashore near Jacksonville Beach, Florida, with peak winds of 70 mph.
So, as we are dealing with COVID-19 and the start of the hurricane season a couple of months away we need to be extra prepared. As long as everyone follows the orders that our state and county government send out, we can slow down the virus so we won't have an overlap of the pandemic with the start of the hurricane season.