Huge Arena on Ballot
Updated: October 22, 2021
Cameron County Sees Many New Plans for Development Including a 10,000 Seating Arena in Los Fresnos
Emilio Flores
Los Fresnos News
LOS FRESNOS, TX — On October 13, 2021, Hidalgo County Commissioner David A. Garza and Cameron County Judge, Eddie Trevino held a presentation on a new project that plans to be on the November 2nd General Election ballot. Under Proposition A, The 'Cameron County Venue Project'
Cameron County voters will be able to decide whether they are for, or against Prop. 2 on the ballot of the upcoming constitutional amendment election, which asks whether the county should be allowed "to provide for the renovation, planning, acquisition, development, construction, equipment, and expansion of a multipurpose arena and convention center and any related infrastructure." (Link to sample ballot at the bottom of the story.)
The arena would be placed off Interstate 69 and Highway 100 and be able to house graduations, sporting events, large concerts, monster truck shows, etc. Hidalgo County Commissioner David Garza explains that it isn't to compete with surrounding event centers, "They're not an arena type" He says. The arena would be placed somewhere in the vicinity of a 1,340-acre and would take up somewhere around 23 acres.
The build is envisioned to be an arena that can house up to 10,000 people; a project the Cameron County Judge, Eddie Trevino, has had in the works for more than 15 years. Back when he was mayor of Brownsville (2003 – 2007). The project itself is estimated to cost a sum of $100M to build.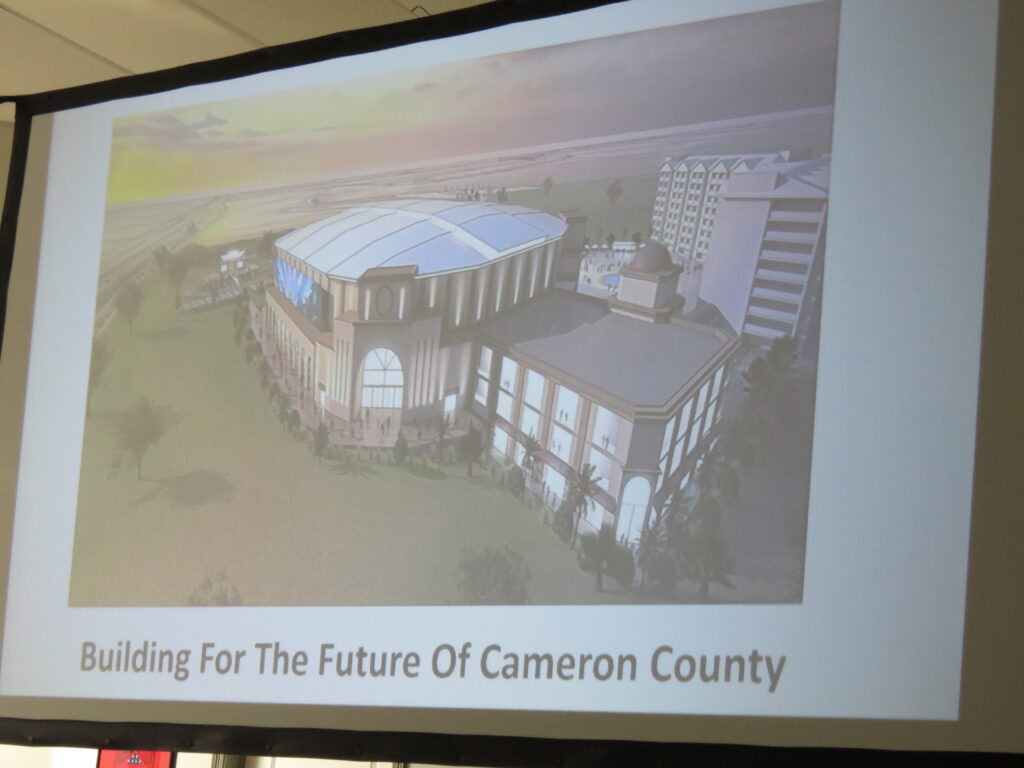 This has raised questions for many people in the Valley as to where the funding would be coming from, and how it might affect the surrounding area. Commissioner David Garza says "We are all impacted by this. Everyone benefits from this project." He explains, "In 2017, voters of this County approved a venue/visitors tax," Commissioner Garza says that the visitors' tax has raised money to build two projects in Cameron County, the Isla Blanca Event Center, and the South Texas EcoTourism Center in Laguna Vista, which were completely funded by visitor taxes. Commissioner Garza later continues by explaining, "This one, is purposed to be one-third funded by that particular venue tax." and says "There (are) other revenues we are looking at to fund the balance of the project…" 
He also mentions the Build Back Better grant he says can be up to "$50 billion", though we must note that this particular grant is still a bill that still needs to be passed. The Build Back Better bill is also referred to as the "reconciliation" bill because it is proceeding through the Congressional budget reconciliation process. You may also note that the current version of the bill, created by House Committees, would spend approximately $3.5 trillion on a range of priorities. Another fund He mentioned going after was the "Travel and leisure funds", He explains that these coupled together should be able to fully fund the arena.
There are also plans for a hotel, restaurants, and more in the surrounding area. Would that be enough to offset the cost and give back to the area? Share your voice, and don't forget to vote on November 2nd!
Other articles to refer to:
The Brownsville Herald under their election segment:
And their opinions piece:
For more on the Isla Blanca project, you can see some of our stories on the project:
https://laferianews.net/?s=Isla+Blanca
For the Nov. 2 voting ballot, (Proposition 2 & Proposition A)- https://www.cameroncountytx.gov/elections/wp-content/uploads/2021/09/Sampleballots-Venue-2.pdf