TSC Digital Library
Offers students new opportunities to learn and grow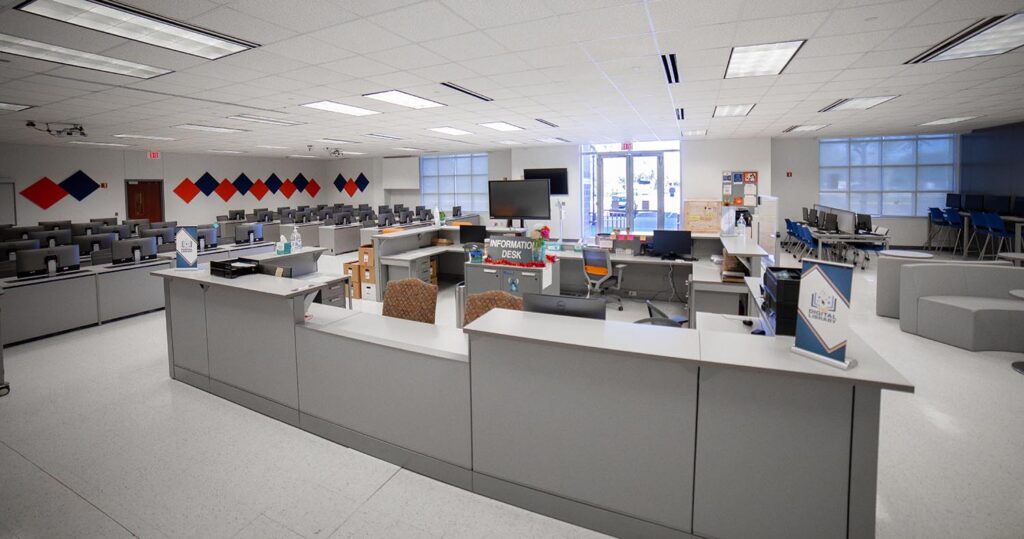 BROWNSVILLE, Texas (April 18, 2022) – Texas Southmost College recently introduced the college's first Digital Library, and for TSC students like Irlanda Moreno, having this service has made completing assignments and essays more convenient.

"Having information and resources at my fingertips and being able to access it even if I'm not on campus helps so much," said the 19-year-old. "This is especially going to come in handy as I prepare to apply to the Radiologic Technology program. The way I see it, TSC's Digital Library is another way the college is helping us succeed."

The idea for TSC's Digital Library, located at the SET B Annex, room 1.536, was first introduced in 2019 to give TSC and its students its own library and resources, since this service was originally being shared with a local university.

"TSC needed its own in-house library for students and faculty," said TSC Librarian Nancy Bond. "So, my goal since day one has been to create a center that met that need."

Any TSC student, by simply logging in with their TSC credentials, can access the Digital Library and everything it has to offer.

Students can find resources such as eBooks, electronic articles and journals needed to complete research, assignments and essays.

Bond said since the Digital Library's official kickoff last month, it has been popular with students.
"This service is crucial to our student and faculty success," she said. "We have faculty sending students over and students recommending it to their friends. This is changing the way our students learn and the way our instructors teach. It really has had a positive impact."

TSC's Digital Library space has been fully redesigned to provide students with individual and group, noise reduction study rooms; a multipurpose room that can be used for class or large meetings; at least 60-70 computers; printers and charging stations.

Soon, TSC students will be able to check out laptops using a new kiosk located at the Digital Library center.

The kiosk will provide up to 24 laptops that can be borrowed for up to 48 hours to complete assignments, quizzes and tests or projects.

"Our goal is to continue expanding and growing the services that our Digital Library offers," said Bond. "We'll be working on including resources specific to programs we offer and that will continue to help our students learn and grow."

Bond encourages anyone who has not visited the Digital Library to stop by. She said there is something for everyone.

While the Digital Library online service is available 24 hours a day at tsc.edu/library and the Digital Library center is open Monday through Friday 8 a.m. to 5 p.m.
For more information about TSC's Digital Library, call 956-295-3452.