UTRGV Athletics Hires Marques Dantzler
RIO GRANDE VALLEY – The University of Texas Rio Grande Valley (UTRGV) Department of Intercollegiate Athletics announced on Tuesday the hiring of Marques Dantzler, who has nearly two decades of experience working in college athletics, including this past year as the associate athletic director for NCAA compliance at Manhattan College, as senior associate athletic director for compliance and administration.

In his new role, Dantzler is responsible for the direction, coordination, and maintenance of a comprehensive compliance program and managing in accordance with university, conference, and NCAA rules, regulations, and procedures. He serves as the liaison for athletics to the NCAA Eligibility Center as well as university legal and UT System legal counsel on administrative matters for the department. He is also the liaison for undergraduate admissions and financial services, working collaboratively with units across campus to develop policies and procedures that ensure institutional, conference, and NCAA compliance.

During his time at Manhattan, Dantzler oversaw the compliance and student-athlete development efforts of the department's 19 Division I sport programs and its student-athletes.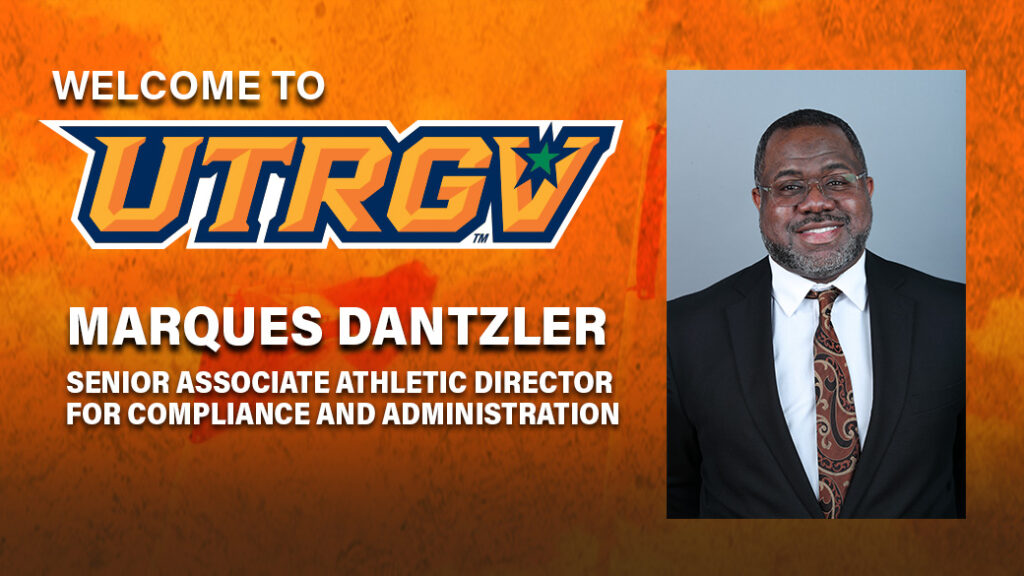 "I am excited to welcome Marques to our department," UTRGV Deputy Director of Athletics/Senior Woman Administrator Molly Castner said. "He brings a wealth of experience in college athletics and is going to be a great asset to our student-athletes and coaches. As administrators, we are here to help our student-athletes and coaches succeed, and Marques will be a key element in maintaining and elevating our success."

Coming to UTRGV is a return to the Western Athletic Conference (WAC) for Dantzler, who previously chaired the WAC Administrators Group and served as a member of the WAC Board of Athletic Advisors while serving as the senior compliance administrator at Chicago State from July 2019 through Nov. 2020.
This is also a return to South Texas for Dantzler, who previously worked at Texas A&M-Kingsville as assistant athletic director for compliance (June 2011 through May 2013) and assistant athletic director for academics and compliance (Sept. 2014 through May 2016), a tenure interrupted only by a year at Incarnate Word, which is joining the WAC on July 1, as assistant athletic director for compliance.

"We are excited to have Marques join the UTRGV family and we welcome him back to south Texas," UTRGV Vice President and Director of Athletics Chasse Conque said. "His wealth of experiences, coupled with his passion to help student-athletes and coaches, makes him a great addition to our department. We are in the midst of transformational times at UTRGV, and Marques will play a very important role in helping our department reach our full potential."

A 2017 graduate of the NCAA Pathway Program, Dantzler started his career in college athletics as a facilities assistant at Buffalo State in 2002-03. He then took on the dual role of assistant men's basketball coach and sports information intern at Hilbert College in 2003-04 before transitioning into compliance at Troy in 2004-05. Dantzler spent the next six years working in compliance at Power 5 institutions, first at Michigan as assistant compliance coordinator (2005-07) and then at Oklahoma as director of compliance (2007-11).

"I am very excited about returning to South Texas and joining the UTRGV team," Dantzler said. "I want to thank Chasse Conque, Molly Castner and everyone who participated in the search process. The future is bright for UTRGV, and I look forward to contributing to its success."

Dantzler majored in finance and earned his Bachelor of Science in Business at Auburn in 2000. He initially went to work as a bank examiner for the State of Alabama Banking Department before moving to Buffalo, N.Y., to earn his Master of Science in Sport Administration at Canisius and work at Buffalo State.