Los Fresnos Swim Team Reaches State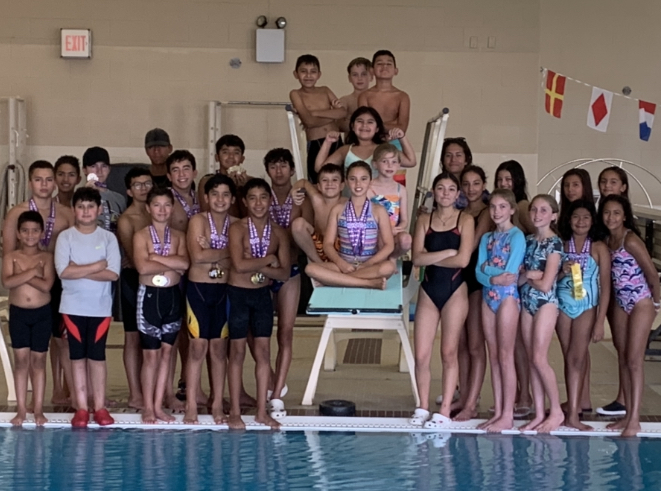 Los Fresnos, Texas — Our Mighty Los Fresnos Swim Club, which features future LFCISD Swim Team Members, participated in the Region 2 TAAF Swimming Regional Meet at the new UTRGV Natatorium in Pharr on July 8 and 9th, 2022.

Over 400 swimmers participated in hopes of swimming their personal best times and an opportunity to earn a trip to the STATE TAAF Swim Meet in Corpus, from July 21st to 24th, 2022. The completion was fast and furious for the athletes, ranging from ages 8 to 17 years old. All of the athletes had a lot of fun and swam their hearts out. Our girl's team scored 668 points and our boy's team scored 863 points, having them both earn 2nd place out of 11 regional teams.

The following 26 swimmers earned a ticket to STATE and will be moving on to the next level:
Mathew Balli
Illiana Corona
Gavin Barrera
Ahlia Garcia
Daniel Canales
Daniela Gonzalez
Juan De Leon
Mia Gonzalez
Diego Flores
Ella Hodgson
Aldaberto Garcia
Karla Moreno
Jonas Gonzalez
Angela Reynolds
David Gutierrez
Aylin Roach
Noah Gutierrez
Brandy Villanueva
Dominic Hernandez
Evangeline Wrinkle
AJ Lal
Luis Rodriquez
Joannes Luna
Josue Luna
Sebastian Reynolds
Brandon Villanueva
9 qualifiers for Nationals
Dominic Hernandez, one of the several athletes is now the State Champion in the 25-meter freestyle for the 10-year-old group.

Dominic's mom, Abygail Lopez shares that the swimming team puts in a lot of hard work and dedication. Even during covid she's seen how much time her son has put in and is very proud. Coach Perez share at one of the swimming meets how proud he is of Dominic. "This year for the first time, in a state championship, Los Fresnos finally earned the gold medal!"

Congratulations to all the swimmers, great job representing the Valley and Los Fresnos! To all of our hard-working team members and their coaches on a job well done in developing strong, smart, safe, and fast swimmers who proudly represent the city of Los Fresnos in the beautiful sport of swimming. Swimming coach, Jaime Perez, says that you can get information on how your child can join their year-round swim club by contacting Coach Cesar at 956 295-0530. GO Falcons!