Christian Vaquero Event
Updated: October 27, 2022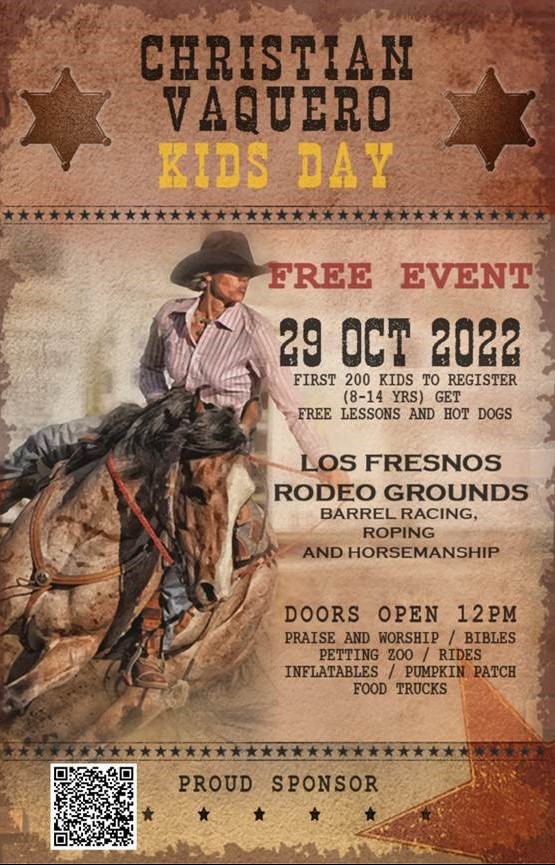 Emilio Flores
Los Fresnos News
Los Fresnos, Texas — this coming weekend the Los Fresnos Rodeo Grounds will be hosting the first-ever Christian Vaquero Kids day event on Saturday, October 29. Pastor Chad Bresson explains that this is something new that hasn't been done in Los Fresnos before. Is simply a day when the different churches in Los Fresnos have come together to teach boys and girls how to be cowboys and cowgirls.

This event, Bresson says, is to provide a space for families to have a great time enjoying professional cowboys, while sharing the news of Jesus Christ. He shares they will be having a few bible lessons along with praise and worship time and prayer time aswell. Pastor Bresson mentions that the kids will get hands-on experience on the different events. What's more is they will also have rides, a petting zoo, inflatables, a pumpkin patch, and food trucks.

"The kids will be getting hands-on barrel racing, roping, and horsemanship experience," something that Bresson has been wanting to do since the pandemic. He shared that they are finally able to pull it off and are excited to do so, mentioning that they started the planning for this year's event back in March or April.

Bresson shares that the event has limited spots, only 200 spots for registering kids. but says the whole family is invited and the event is not a drop-off event. He also says the next Christian Vaquero may be sooner than in a year and that they hope to grow for the following year!

Listed below are the different Churches, sponsors, and food vendors that are all involved.
Churches of Christian Vaquero Kids Day:
The Table of Los Fresnos, Los Fresnos
Livingway Family Church, Brownsville
St. Paul Lutheran Church, Harlingen
Iglesia Bautista Capernaum, Brownsville
Sponsors:
Rolynn's Transfer/Rolynn's Transportation
Amigo Tax
A&V Lopez Supermarket
Iglesia Bautista Capernaum
Urban Strategies
Iglesia Bautista HOREB
Cricket Wireless on Paredes
M7 vintage & thrift
Livingway Family Church
Hearts 4Kids Inc.
Cactus Ropes
Nutrena Feed
Golden Corral, Brownsville
Coastal Event Rentals
Food vendors:
The Weekender BBQ
KR Boutique & Treats
La Estacion
Parra's Tamales
Manny's Snacks
Ruby Corn
Holy Smokes BBQ
Cowboy's Kitchen & Grill