Los Fresnos All Stars Represent at 17th Annual East-West All-Star Football Game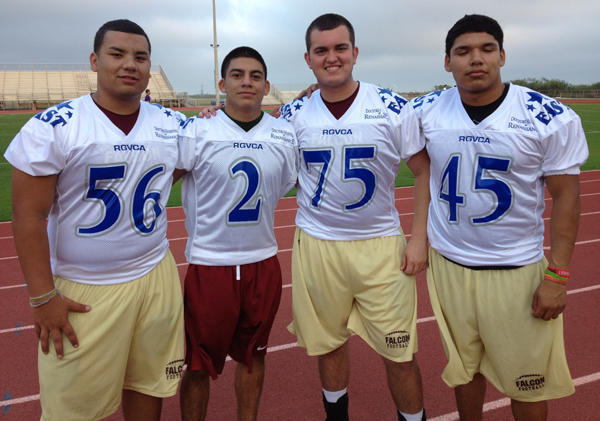 The Rio Grande Valley Coaches Association held their 17th Annual East-West All-Star Football Game on May 18, 2013, at Bobby Lackey Stadium in Weslaco, Texas. The very competitive, hard-hitting contest was dominated by strong defensive play, resulting in a scoreless tie at the end of four quarters. Even though the teams were held scoreless, there was no shortage of exciting plays, and the estimated crowd of 5,000 truly enjoyed getting a chance to watch some of their Friday Night heroes in action one last time.
A committee of Rio Grande Valley football coaches selected only the best-of-the best seniors from all classes of Valley football teams. Four members of the Los Fresnos Falcons represented the East squad. Those players were Conner Sales (Offensive Tackle), Joe Rodriguez (Offensive Guard), Joe Perez (Defensive Tackle), and Jaime Mata (Wide Receiver). These four young men participated in two weeks of practice with other All-Stars from the eastern half of the Valley, all leading up to game night under those stadium lights one last time. They were coached by the committee's selection for the East squad, the Port Isabel Tarpons coaching staff, led by Coach Monty Stumbaugh.
All four of the Los Fresnos All-Stars made significant contributions to the East squad success, and they made the Los Fresnos community proud by displaying their Fighting Falcon Spirit. The Falcon fans that traveled to Weslaco for the game were not disappointed. A big thank you for the effort and sacrifice shown by these sons of Los Fresnos!