July Marks Ultraviolet (UV) Safety Month
UTRGV dermatologist encourages safe sun activities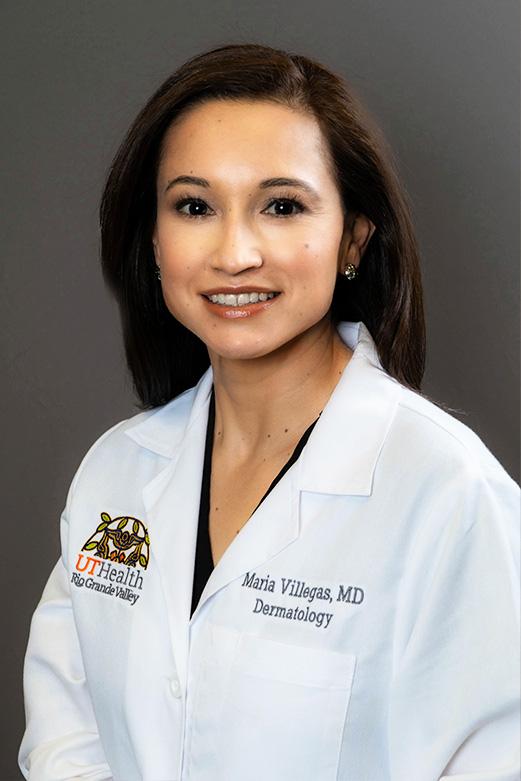 By Saira Cabrera
RIO GRANDE VALLEY, TEXAS – JULY 3, 2023 – Summer is here, and the Valley sun promises to shine in all its glory – along with its ultraviolet rays.

This month, Ultraviolet (UV) Safety Month, highlights the importance of keeping safe from UV exposure both indoors and out, reminds the community to stay protected from potentially harmful ultraviolet rays, and encourages sun safety measures.
UV RAYS
"Ultraviolet or UV radiation is a form of electromagnetic radiation, usually a form of radiation that is emitted by the sun," said Dr. Maria Villegas, M.D., division chief of Dermatology at UT Health RGV and assistant professor of Otolaryngology-Head and Neck Surgery-Dermatology at the UTRGV School of Medicine. "Radiation – which means sending out energy – can come from any source inside or out."

To lessen harmful UV radiation effects – including wrinkles and premature aging, immune system suppression, eye damage and skin cancer – the board-certified dermatologist stresses the importance of being protected from UV rays and their side effects.

"Overexposure to UV rays not only can cause premature skin aging," Villegas said. "More importantly, overexposure damages skin cells, which can lead to the development of skin cancer. Though treatable in most cases, it is a cancer nonetheless."

Villegas says UV rays tend to be the strongest in the middle of the day, between 10 a.m. and 4 p.m., and stronger during the spring and summer months.

"Even though there is shade and little sunlight, UV rays can still be present," she said.
She also warns that UV damage can occur indoors and advises taking precautions against exposure.
"Staying protected from harmful UV rays is as easy as practicing sun safety measures, which is of utmost importance," she said. "And, of course, avoiding activities such as sunbathing and the use of tanning beds."
PRACTICING SUN SAFETY
Villegas recommends:
Wearing a broad-spectrum sunscreen, SPF 30 or higher, every day, and reapplying it every two hours.
Wearing a broad-rim hat, sunglasses and protective clothing.
Seeking shade whenever possible.
Protecting children from UV rays and teaching them how to protect themselves.
And avoiding artificial UV sources like tanning beds, which cause long-term skin damage.

"Our skin is the largest organ in our body. For our skin to protect our internal organs, we must take care of it," Villegas said. "Avoiding over-exposure to UV rays is the most preventable cause of skin cancer and other harmful UV damage."

Villegas reminds Hispanics that they can get skin cancer just like any other groups and are not immune to harmful UV rays.

"The risk of developing melanoma (cancer) in Hispanics has risen by 20 percent in the past two decades," she said. "We need to wear sunscreen and practice other UV radiation safety measures and sun safety activities."
The American Cancer Society (ACS) recommends following a simple phrase to help us remember important protective sun safety measures:
"Slip! Slop! Slap! ® and Wrap":
SLIP on a shirt.
SLOP on sunscreen.
SLAP on a hat.
And WRAP on sunglasses to protect the eyes and surrounding skin.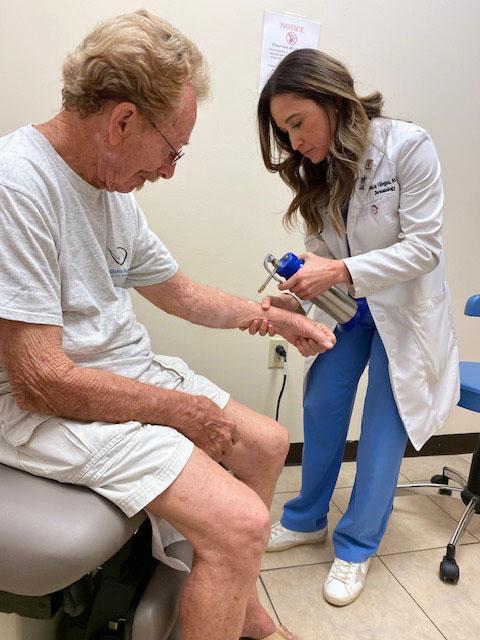 FOLLOW SAFETY ROUTINES
Villegas said it is essential to follow safety routines to protect the skin from UV rays, starting now.
"As an adult, it is still not too late. Starting sun-safety measures in adulthood can still decrease future over-exposure to UV rays," she said. "That is why it is important to start protecting your skin now and instill sun-safety measures in children."

This summer, she recommends avoiding the sun whenever possible and always staying safe from UV radiation exposure. To learn more about sun safety measures, she recommends visiting the ACS website for more information.

"Expert patient care – for dermatology to oncology – starts in academic medicine. We work every day to save lives," Villegas said. "If you have any health concerns, whether with your skin or something else, visit us. One visit could help save your life."