Honduran Teachers Visit Schools for 15th Straight Year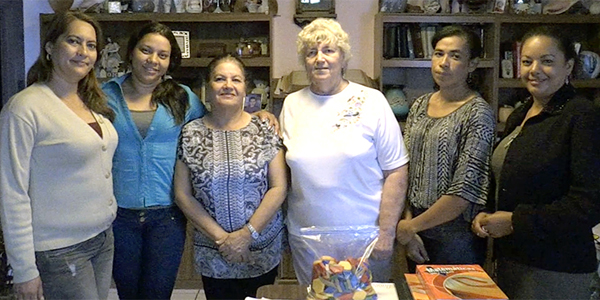 For the last 16 years, retired Los Fresnos CISD teacher and administrator Dorothea Cole has become an inspiration to teachers in the country of Honduras.
A group of teachers from Honduras visited seven Los Fresnos CISD schools over the last three weeks, learning everything they can to share their knowledge with the children of Honduras.
Bessy Morales Pacheco of Tegucigalpa, the capital of Honduras, visited Los Fresnos for the 16th straight year and brought four young teachers. The five teachers stayed at the Cole residence during their two-week visit.
"We used to travel with Bessy around Honduras and doing workshops," Cole said. "We realized that it would be more beneficial if the teachers from Honduras could come to Los Fresnos and see how students and teachers interact over here."
They are part of the Friends United project, which has a website by the same name. The teachers from Honduras have a Facebook page Amigos Unidos Honduras.
Morales Pacheco brings different teachers every year from the Honduras Department (state) of Francisco Morazan to Los Fresnos.
There are stipulations for teachers to visit Los Fresnos schools.
"They must buy in to it, literally," Cole said. Prospective teachers from Honduras have to pay their own plane fare, which is about $1,000 round trip. The teachers must find their own substitute teachers and pay them out of their own pocket.
Cole and Morales Pacheco require that the teachers present workshops to their peers in Honduras. "One school has adopted seven schools, so they have taken it and run with it."
The third stipulation is that the teachers will go back to Honduras. "This is not a stepping-off place to come into the United States and get lost. We do this for Honduras. All these years, we've never had any trouble with that rule."
Cole houses between five and seven teachers each year. The teachers who came with Morales Pacheco this year – Lesly Haydee Lopez, Brendy Lizeth Turcios Alcantara, Ana Fraisco Avila Torres and Iris Esperanza Hernandez Chirionos – are from different cities in Francisco Morazan near Tegucigalpa. Their English is limited, but most Los Fresnos CISD teachers are bilingual, so communication is not a problem.
"We've learned a lot of things at each school," Morales Pacheco said. "We've seen how dedicated each of the teachers are here."
Schools have donated some unused supplies, but teachers have donated even more from their own pockets. Items such as pencil sharpeners, chalk and paper are treasured items in Honduras. Teachers in Honduras have to buy their own teaching materials and supplies.
"We do not have the teaching materials in Honduras that the schools have here. The schools here are fortunate and have many teaching materials."
In Los Fresnos CISD and most schools around the U.S., students are provided with the necessary tools for learning.
"We have students who do not have chairs to sit on," Morales Pacheco said. "Some children even have to bring their chairs from home, or they sit on the floor."
Students here are provided balanced healthy meals provided by the schools. "We wish we could take the food home that children have here. Many of our children do not have food to eat at school."
Ms. Cole and her husband Fred transport the teachers to their school locations and feed them.
"Our visiting teachers have seen a good example here in Los Fresnos," Morales Pacheco said. "We have learned so much, and the Los Fresnos school district has always opened its doors to us. We have better schools in our country because of the help the Los Fresnos school district has provided."