Adult Education Administrator Visits ESL Students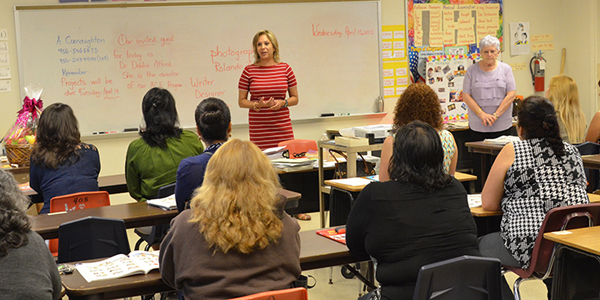 The Los Fresnos CISD ESL Co-Op program received a visit by the Debbie Alford, program administrator of the Brownsville ISD Adult Education Program.
Los Fresnos CISD Co-Op program is one of five in Cameron County serviced by Alford and the Brownsville ISD Adult Continuing Education program.
There are 24 students in the ninth-month program taught by retired Los Fresnos CISD teacher and administrator Antoinette Connoughton.
BISD ACE Consortium is the fiscal agent for Cameron County. It strives to meet the needs of our community by educating adults with English as a Second Language and Adult Basic Education (GED) to learn to communicate effectively with others, become independent, and be current with trends in employment and higher education.
Goals are that all ESL students will further themselves personally, via workforce, military, or post-secondary education; and, that they will develop an awareness of community resources, both public and private.