Top 10 Spotlight: Quoc Truong's Siblings Paved the Way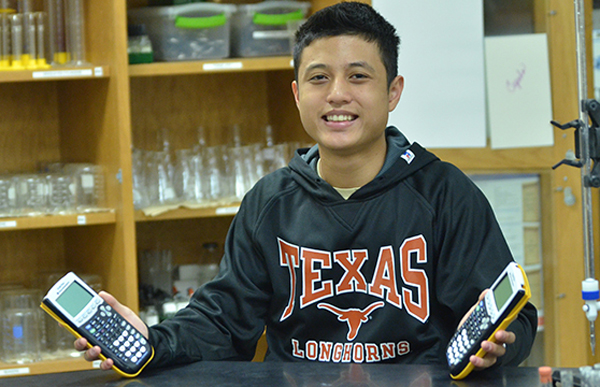 Quoc Truong grew up as the youngest of five children, and learned at a young age the importance of education.
"My brothers and sisters impacted my life significantly," said the Los Fresnos High School senior who is among the Top 10 students of the Class of 2015. "I always felt that there was always someone watching my back."
Quoc's parents, Giang Truong and Theo Nguyen, own and operate a nail salon in Brownsville. Quoc was 2 when his family moved from Vietnam to Texas.
His oldest brother Hai was also a Top 10 student in high school and graduated from The University of Texas. Another brother, Hung, graduated from LFHS in 2012, and is a senior at UT. His sister, Thu, is a Registered Nurse in Brownsville, and another sister, Ha, owns an operates a nail salon in Boston.
"My parents always stressed that education was the key to life," Quoc said. "They always insisted that having a good education in high school and college is your future to life.
You just have to apply, apply and apply yourself."
Applying himself meaning staying up late to finish lab reports for AP Chemistry, or homework for Pre-Calculus or College Algebra. "It was stressful at times, but it was worth it."
Quoc's grades have always been the first letter of the alphabet. He has never made a B on a report card.
"My junior year was tough with all of the AP classes," Quoc said. "My teachers have been just as important as my parents. The amount of support that I got from my AP teachers has been amazing. They pushed me to my limits."
Quoc is not just about making good grades. He has been involved with eight clubs at LFHS, including UIL Academics, HOSA and DECA. He was a state qualifier in a DECA Advertising Campaign Competition his junior and senior years.
"It was hard balancing my education and clubs" Quoc said. "But having a good resume for college was important. Having good grades was one thing, but you have to learn to balance it."
DECA made an impact on his self-confidence.
"DECA was one of the first clubs I joined in high school," Quoc said. "The club changed my life so much. I went to the club as a shy kid, and I had a hard time presenting in front of classes. The speaking skills I gained from has been ridiculous. It changed my leadership skills, my speaking skills, social skills. Now I have the confidence of speaking to people that I did not have before."
Quoc has been involved in UIL Academics since fourth grade when he was introduced to Number Sense and Maps, Charts and Graphs. He has qualified for regionals in UIL Academics at LFHS since his sophomore in Mathematics and Science this year.
He is destined to attend The University of Texas at Austin, where he has received the Texas Advance Scholarship that will cover most expenses. Financial aid and grants will cover the rest.
"I plan to major in Electrical Engineering, because it incorporates my love of math and science. I hope to work at a big engineering firm like Intel or Google."
Quoc has basic recommendations for students who students who seek to be successful academically.
"Everyone has the knowledge to be great. You have to learn how to apply yourself, and work hard. If you don't have the intelligence that others do, you can outwork. Also, don't procrastinate in your work. I used to do that, but you will be more successful if you pace yourself and do everything in advance."