Top 10 Spotlight: Grandmother Inspired Sierra Garcia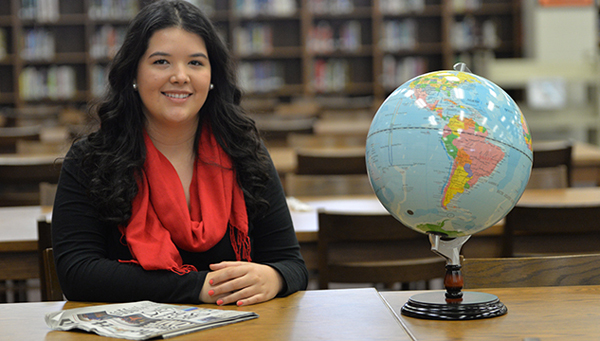 Many parents and grandparents impress upon the younger generation to take advantage of the opportunities they could not.
For Sierra Garcia, maternal grandmother Valentina Gutierrez was no different.
"My grandma was a migrant worker and didn't finish elementary school," said Garcia, a Top 10 student of the Los Fresnos High School Class of 2015.
"I see her every Sunday, and we are very close. She has told me since I was 5 years old: 'focus on school, focus on school.' I know it sounds like a cliché. But she also inspired my mom, so it all comes from my grandma."
Sierra is the daughter of Adan and Sandra Garcia, both of whom were LFHS graduates.
"My mom is my biggest motivator," Garcia said. "Seeing my grandma and mom pushes me to live up what they have done. It's a hard level of expectation, but this is something I really want."
Family time is important for Garcia, whose younger sister Alex is a sophomore at LFHS.
"I try to set a good example for her," Garcia said. "She's my best friend. I help her out with her math homework and we do UIL together."
UIL is one of Garcia's favorite activities. She previously participated in Mathematics and History but found her calling this year in the Current Events and Journalism division, where she has advanced to regional competition in both events.
"I didn't think I would want to do UIL Journalism, but I read news articles so much that the news writing came naturally," Garcia said. "I started it one of the meets not knowing what to expect. I like the style of news writing, because it's straightforward and doesn't involve a lot of opinions."
Garcia's participation in DECA has boosted her self- confidence.
"DECA got me out of my shell as a junior," Garcia said. "I got involved in competition and loved it. It let me to get involved in the specialized parts of business like hospitality, management and marketing. My speaking skills were not anywhere near where they are right now. It's a club that everyone should be involved in, because it opens a lot of doors. They have an event for everybody."
Although she has been involved in 14 clubs and activities during her years at LFHS, a network of close friends with the same interests has kept her focused on academics.
"It's hard making time for everything," Garcia said. "This year, I focused more on the clubs that I enjoyed the most. It's possible to be involved and keep your grades if you manage your time well. It has been hard, but I'm surrounded by people who have the same mindset and who are focused."
With her business experience in DECA, a mother who is a Certified Public Accountant, and a family ownership in a health business, a career in business would not be surprising.
Garcia has been accepted into the McCombs School of Business at The University of Texas, where she has received the Dean's Scholarship to cover expenses.
"Business is a foundation everyone should have," Garcia said. "I will probably start college in Business, but I'm not sure yet if I'll do that or Journalism, or some of both."
Garcia knows that she has a good foundation for academic achievement, and follows a philosophy for success.
"As long as you have ambitions, you don't have to be the best at everything you do. Find that one thing you love, and pursue it 100 percent. Don't focus on what you're lacking, focus on what you're good at, and do what you love to do."