It Is All About Where LFCISD Is Going
Updated: September 4, 2015
Salazar Presents Vision of School District's Future and Celebration of Its Past
Superintendent of Schools Gonzalo Salazar was a welcomed guest speaker at the general meeting for the Area Chamber of Commerce on Tuesday, August 25, 2015. Salazar commanded the attention of the near capacity crowd with a informative and insightful look at the current state of the school district and plans for the future.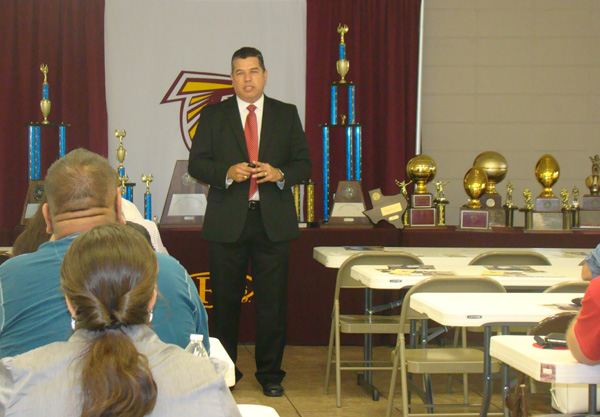 Salazar stood before a wall of trophies and award plaques symbolizing the districts student achievements from just the previous school year. It was a testament to the commitment the administration and teaching faculty have toward this community's youth and their accomplishments. Salazar mentioned that this year alone enrollment was at 10,571 students and by August 25 there were 10,697 students in class throughout the district.
"We embrace those challenges," said Salazar.
Speaking of the humble beginnings of a good portion of students from the area, Salazar stated "it's not where we come from but where we're going" as he discussed the districts state accountability achievements such as Los Cuates Middle School achieving 100% of distinctions four years in a row, LFHS and Middle School Bands taking top honors in sweepstakes and ten years of consecutive F.I.R.S.T. superior ratings just to name a few.
Future plans for the district include a ribbon cutting ceremony for the safe room shelter and competition gym, plans to move tenth graders from LFHS to LF United and construction of a indoor swimming and practice facility. The future of LFCISD is certainly not governed by its past but it will celebrate it this school year.
The Centennial Celebration will kick off this fall during a themed homecoming parade, a theatre and style show depicting Los Fresnos life and styles through the last 100 years, planting of a Fresno tree on the 100th day of the 100th year in February 2016 and climaxing in a community celebration in April 2016 at Leo Augilar Memorial Stadium for a grand history performance and fireworks.