City of McAllen to Host TAAF Summer Games of Texas Once Again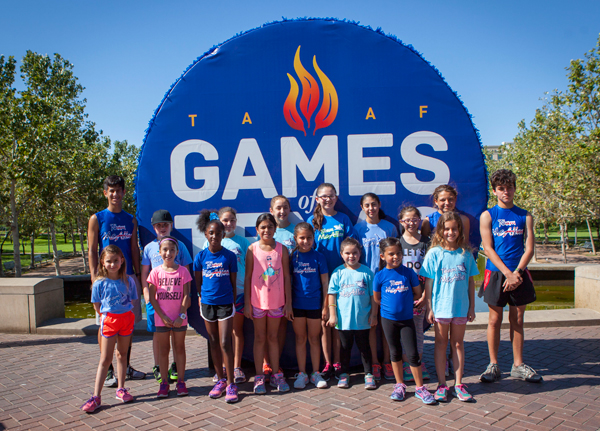 (McAllen, TX) The City of McAllen is proud to once again host the Texas Amateur Athletic Federation Summer Games of Texas, welcoming young athletes from throughout Texas and Mexico to compete in 15 events. This tournament, governed by the Texas Amateur Athletic Federation and approved by the United States Olympic Committee as a States Game Program, encourages youth to participate in sports serving as a foundation for building healthy habits and creating a better future for children.
The Games of Texas is an Olympic-style festival promoting high-level competition and sportsmanship. Both youth and adult athletes from across the state will compete for their chance to win gold! In fact, the age range of participants is anywhere from 5 to 50.
The event will be held from July 27-30, 2017, with an official dazzling Opening Ceremony to be held on Friday, July 28 at the McAllen Convention Center. The Opening Ceremony spectacular even features a Parade of Athletes. The competition will feature 15 team and individual events, including archery skills, youth baseball basketball, boxing, golf, pickleball, rugby, skateboarding, soccer, swimming, table tennis, tennis, track & field, volleyball and wrestling.
"I hope to see the amazing athletes and teams of every age, especially from throughout the Rio Grande Valley, Texas and Northern Mexico compete in these amazing Games," said Mayor Darling. "This is what every kid on any field of competition dreams about: competing at against the best. That's what everyone will find in these 15 different sporting events held throughout these four days at the Games of Texas; the best athletes from around the state and beyond. Go for the gold!"
The sporting events will be held at various municipal facilities throughout McAllen and partnering cities, including Brownsville, Edinburg, Harlingen, Mission and Pharr. The City of McAllen will be recruiting players, teams, coaches, judges, volunteers and even spectators to help execute all facets of the competition.
As many as 10,000 participants are expected to participate in the event supported by another 10,000 spectators. More than 4,000 participants will take part in track & field at McAllen's McAllen Veterans Memorial Stadium. Over 2,300 swimmers will compete throughout four days at the Edinburg Municipal Pool. While most events do not require qualifying times, a select few of the sporting events, including youth baseball, swimming and track & field, do require qualifiers.
To register for these and other sports, visit www.taaf.com and click on the Summer Games link. Once there, follow the link for each individual sport for competition details and registration information. Coaches or participants who have questions about registration, qualifiers or who can compete can also call the City of McAllen Parks & Recreation Department at (956) 681-3333.
Look for hotel information on the Summer Games link, as well. The listed participating hotels will be offering a special TAAF Summer Games rate for participants and their families.
For those not familiar with the warm McAllen atmosphere, get ready to sweat. Summer temperatures can soar into the low 100s, with high humidity. However, it is the friendly, welcoming attitude of the locals that really sizzles.
"We love it down here in McAllen, Texas," said Trent Emmons, a Frisco, Texas resident and parent of a participating athlete who was posting on his social media account about last year's event. "It is a great Games of Texas! They welcome everybody here with open arms! We're having a great time!"
Athletes and anyone attending the Games are reminded to use the hash tags #gotmcallen and #taafnation when posting for this year's event.
In addition to registering to participate in an individual or team sport, there are many ways to get involved and participate in the state games. To make this event memorable for all participants, the city of McAllen is recruiting volunteers to assist at the different events throughout the fun-filled weekend. Those interested in volunteering can view available opportunities and register online at www.volunteersotx.org.
Last year, the City of McAllen welcomed 7,316 athletes from 17 Texas regions and 69 cities, including Dallas, Houston, Austin, and San Antonio, who competed in the Games. The event is held annually and is hosted by a different Texas city every two-years. Games have previously been hosted by Bryan-College Station, Corpus Christi, San Antonio and Waco among many others. This is the furthest south that the Games of Texas have ever been held.
The event allows the City to promote itself as a healthy fun loving city, encouraging residents and inviting visitors to participate in sporting and other outdoor activities.
This event would not be possible without the support from the sponsors. Businesses who are interested in sponsoring the games can contact the city of McAllen Parks and Recreation Department at (956) 681-3333 for more information.
"I would really like to invite local, regional and national businesses to be a part of this special sporting event," said Mike Hernandez, Director for the City of McAllen Parks & Recreation Department. "Not only are you in front of thousands of potential customers, in both the athletes and their families, but also, you are demonstrating to the community your support for sports which help provide so much guidance and discipline in today's youth."
The Texas Amateur Athletic Federation is a nonprofit organization established in 1925 to promote, organize and conduct amateur athletics in the state of Texas. Their current membership consists of over 140 organizations with over 210,000 individual participants.
For more information, please visit, www.taaf.com or www.mcallenparks.net.