Jeffrey Kenneth Shuckman
May 22, 1967 – July 10, 2017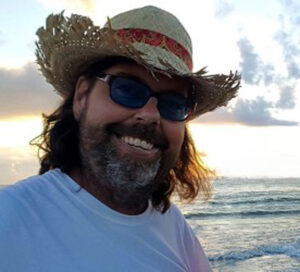 Jeffrey Kenneth Shuckman, aka Shucky, of Los Fresnos, Texas, has completed his victorious journey.
Jeff, age 50, gained his victors crown in McKinney, Texas on July 10, 2017, after a four year marathon with Cholangiocarcinoma.
Jeff was born May 22, 1967, in Harlingen, Texas, to Robert and Merry Lynn Nonmacher Shuckman of Los Fresnos, Texas. He grew up in Los Fresnos and was active in Little League football, baseball, golf, and 4-H. In high school, he participated in FFA and was a member of the Thespian Group where he earned All District in a one-act play. After high school, Jeff attended Southwest Texas State University in San Marcos, where he pledged Sigma Nu Fraternity and met his life long "brothers" and "little sisters."
Jeff's career took him across the state of Texas, working in Dallas, Beaumont, Houston, San Antonio, Leakey, and the Rio Grande Valley. In all his travels, the one person who kept Jeff grounded was his adoring daughter, Allison, who Jeff affectionately called "Monkey." Jeff and Allison were a dynamic duo. Jeff could be found enjoying one of Allison's volleyball games, or Allison working as Jeff's assistant on South Padre Island. Allison brought a smile to his lips, joy to his heart and pride to his chest.
Jeff was larger than life, literally and figuratively. He stood 6'8 and still had a heart too big for his body. Jeff never met a stranger. Once he called you friend, it was for life. Jeff loved his family, friends, fraternity, hunting, Hawaiian shirts, quality coffee, Budweiser, making people laugh, Stripes breakfast tacos, hibiscus flowers, Donald Trump, Jamaica, late night shopping on Amazon, The Texans and Astros, karaoke, making knit hats, and being a proud Dad and loving husband.
Jeff's marathon began on April 22, 2013, when he was diagnosed with stage IV Cholangiocarcinoma; a rare cancer that originates in the bile ducts. With his family by his side, Jeff began chemotherapy and the "SHUCKY STRONG" movement was born. All in all, Jeff completed 98 rounds of chemotherapy, several rounds of immunotherapy, several months of radiation, and many months of alternative and experimental treatments. Jeff was an advocate not only for himself but for all Cholangiocarcinoma patients. He was an active member of the Cholangiocarcinoma Foundation and, over the years, became close friends with many people across the country and across the world who's journey looked much like his. Jeff inspired many cancer patients, and their family members, to act as their own advocates. He encouraged patients to do their own research and to reach out beyond the limits of their doctor's office.
In the midst of his journey, Jeff met his wife, Rebecca. Together they dove deep into the science and research of Cholangiocarcinoma, finding new treatments, doctors, tests, and possibilities. Rebecca put her running shoes on and joined Jeff in his Cholangiocarcinoma marathon. Jeff said that, without Rebecca, there was no life. Only existence. When they were not outrunning cancer, Jeff and Rebecca enjoyed traveling and binge watching Netflix together.
As Jeff came closer to the finish line, his body was tired, but his will was not. Cancer may have worn his body down and exhausted his strength, but it did not steal his friendships, his spirit, his zest for life or his positive attitude. When a person runs a marathon, we credit their training, commitment, and aspirations. We never declare a marathon runner who is between second and last place as a loser. Therefore, we do not say Jeff lost a battle. He ran the race and he crossed the finish line victorious! James 1:12
Jeff is survived by his wife, Rebecca (Tarr) Wolf of Anna, Texas; daughter Allison Shuckman of Denton, Texas; stepson Trevor Wolf of Terrell, Texas; stepdaughter Tatum Wolf of Anna, Texas; mother Merry Lynn Nonmacher Shuckman of Los Fresnos, Texas; sister Leslie Clay (Tom) of Houston, Texas; sister Joanna Shuckman of Dallas, Texas; nieces Courtney Steele and Christa Clay; nephew Chase Clay, and many Sigma Nu brothers, little sisters and friends.
Jeff is preceded in death by his best friend and father, Bob Shuckman; his paternal grandparents Kenneth Shuckman and Sula Hodges Shuckman; maternal grandparents Leslie Nonmacher and Betty Thompson Nonmacher,
A Celebration of Life was held on Saturday, August 5, 2017 from 4:00-6:00 pm at Jeff's childhood home. Shuckman Farms 35541 FM 2480 Los Fresnos, Texas. Hawaiian shirts were welcome.
In lieu of flowers, the family requests that donations be made to The Cholangiocarcinoma Foundation in Salt Lake City, Utah.
The Shuckman family would like to express their appreciation for the outpouring of love and support.
Forever Shucky Strong