Antonio G. (Tony) Rivas
July 5, 1927 – February 16, 2018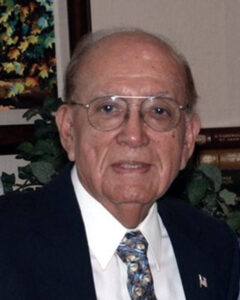 Antonio G. (Tony) Rivas, 90, went to be with his Lord on Friday, February 16, 2018. He was born in Los Fresnos, Texas (at La Pompa) to Pedro Rivas and Cruz Garcia Rivas on July 5, 1927. Antonio proudly served in the U. S. Army from 1945 to 1947 and was stationed in Panama. From 1949 to 1966, he served in the U. S. Army Reserve.
In 1950, he began his 32-year-long career with the U. S. Postal Service, attaining the position of Postmaster – the first Hispanic ever to be promoted to that position in Los Fresnos. In 1968, Antonio graduated from Pan American University in Edinburg with a Bachelor of Arts degree in Government. He was a member of the National League of Postmasters and, in 1982, received a Letter of Commendation from the U. S. Postmaster General.
Antonio loved his community and served on various boards, commissions, and committees. He was the first Hispanic to be elected to the Los Fresnos CISD Board of Trustees and served as Secretary of the Board from 1968 to 1972. He was also a member of the Los Fresnos Board of Equalization, chairman of the Salvation Army of Los Fresnos, a member of the Los Fresnos Housing Authority Board of Directors, a member of the Los Fresnos Community Development Corporation Board of Directors, a member of the Los Fresnos Planning & Zoning Commission, and president of the Los Fresnos Chamber of Commerce. In 1984, Antonio was the first Hispanic to be appointed Municipal Judge for the City of Los Fresnos. He faithfully served the community in that position until 1992.
He and his late wife, Maria Garza Rivas, served side-by-side in the church and were lifelong members of St. Cecilia's Catholic Church. Antonio served as President of the Cursillo Movement of the Catholic Diocese of Brownsville, President of the Catholic Men's Club, and Grand Knight of the Knights of Columbus.
Antonio was a licensed real estate broker and investor as well as a licensed Life,
Fire and Casualty Insurance agent and owned Tony Rivas Realty. In his leisure time, he greatly enjoyed spending time with his family and being involved in church-related activities.
In 2008, he was inducted into the Rio Grande Valley Walk of Fame in recognition of his contributions to Los Fresnos and the Rio Grande Valley. In his later years, Antonio put to paper a narrative of his memories of the many struggles and challenges he faced throughout his life. And, what began as a simple, written gift to his children and grandchildren became, Life is a Challenge, a book he published in 2016.
Antonio was preceded in death by his parents, Pedro Rivas and Cruz Garcia Rivas; his wife Maria G. Rivas; son, Antonio Rivas, Jr.
Left to treasure his memory and carry on Antonio and Maria's legacy are sons, Jorge Rivas (Rosa Maria) of Brownsville, Texas, Dr. Pedro A. Rivas (Colleen) of San Antonio, Texas; daughter, Melba Rivas (Stephen Christian) of Los Fresnos, Texas; grandchildren, Stephen A. Rivas, Kristen M. Rivas, Mina Jahandoost, Leandra Rivas, Anthony Rivas, Sarah Rivas; niece, Angelita Garcia; numerous nieces and nephews. Antonio is also survived by his siblings, Dr. Bertha Aida Garcia Figueroa, Dr. Pedro H. Rivas Figueroa, Humberto Rivas Figueroa, and Esther Rivas Figueroa.
The Rivas family received friends and relatives at San Benito Funeral Home on Sunday, March 4, 2018 from 3:00 p.m. to 9:00 p.m. with a recitation of the Holy Rosary at 7:00 p.m. A Mass of Christian Burial was celebrated on Monday, March 5, 2018 at 10:00 a.m. at Our Lady Queen of the Universe Catholic Church in San Benito. Interment followed at Mont Meta Memorial Park.
Honored to serve as active pallbearers were Stephen Christian, Farid Mezouari, Lawrence Cantu, Gilbert Silva, Joe Garza, Jr., David Lopez, and Pedro Lopez, Jr. . Honorary pallbearer was Mr. Gonzalo Salazar, Los Fresnos CISD Superintendent of Schools.
The Rivas family wishes to thank the staff at Harlingen Medical Center, Kindred Hospice, and United HealthCare for their care and compassion.
Funeral arrangements were entrusted to San Benito Funeral Home, 1400 W. Hwy 77, San Benito, TX. (956) 361-9192 www.sanbenitofuneralhome.com