Port Isabel Airshow
Updated: October 16, 2021
By Emilio Flores
Los Fresnos News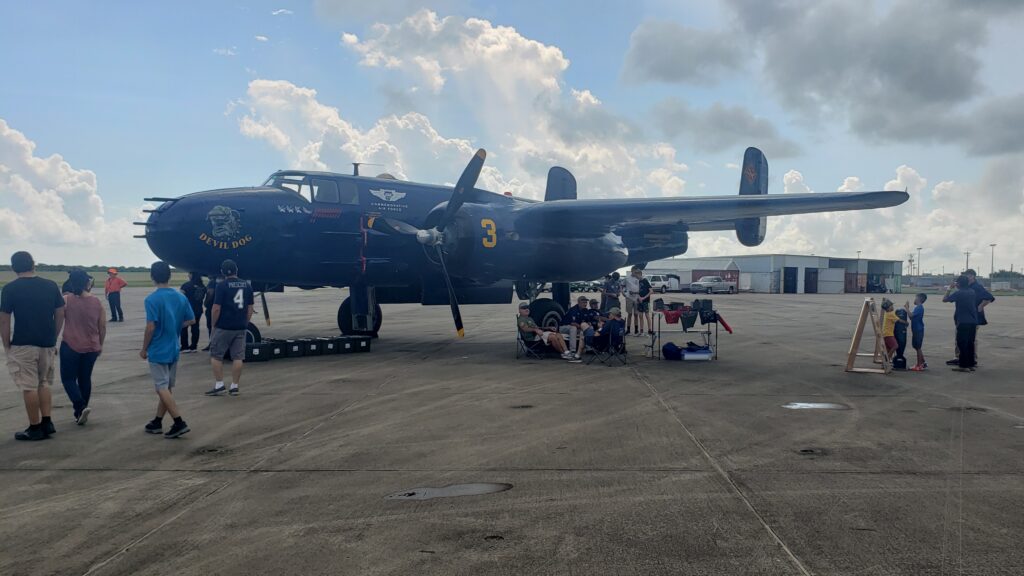 PORT ISABEL, TEXAS, October 2021 — The CAF-RGV Wing (Commemorative
Air Force – Rio Grande Valley Wing) performed last weekend, October 2nd & the 3rd. Unfortunately, they were not able to perform Friday evening due to weather conditions, but they still put on a performance Saturday evening.
In an interview with Jeanne Hughston, she explained that one of the pilots decided he wasn't going to be here with all these fireworks, and not use them. They went through with having a great performance Saturday evening. She continued by saying "I think A LOT of people enjoyed it… Saw people posting about it, putting pictures online…"

When asking David Hughston, the airshow chairman & finance officer, why this event is so important He exclaimed "It's very important!" He continued "One of the things we pride ourselves in doing, is teaching the lessons of history… We like to demonstrate almost living history by flying these old airplanes… And it's all in a family-friendly environment, we love to have the kids to come out and see the airplanes flying in the air" he continued by saying that it also sparks interest in the varied careers available in aviation.
And when asked directly, what keeps them putting on these airshows, He puts it simply, "It's just a joy." He said. Family is really what it's all about for the Hughston Family, with just about all of them involved in the majority of the operations; David explained "My family is aviation-oriented… We love airplanes".

The Airshow is a fundraiser for the Rio Grande Valley Wing Museum in Port Isabel. All the money made by the Airshow goes towards keeping their museum running, and as Hughston shared with La Feria News, they eventually hope to expand but after the worldwide Pandemic broke out last year, it forced them to cancel last year's
event. The airshow is crucial in keeping the museum running.

If you'd like more information on the Airshow, events coming up,
or if you'd like to set up a field trip to see the RGV Wing Museum in Port Isabel, you can visit their website at http://www.rgvcaf.org/index.html