Two Seniors Attend Rotary Meeting, Sharing Future Career Aspiration
Updated: December 24, 2021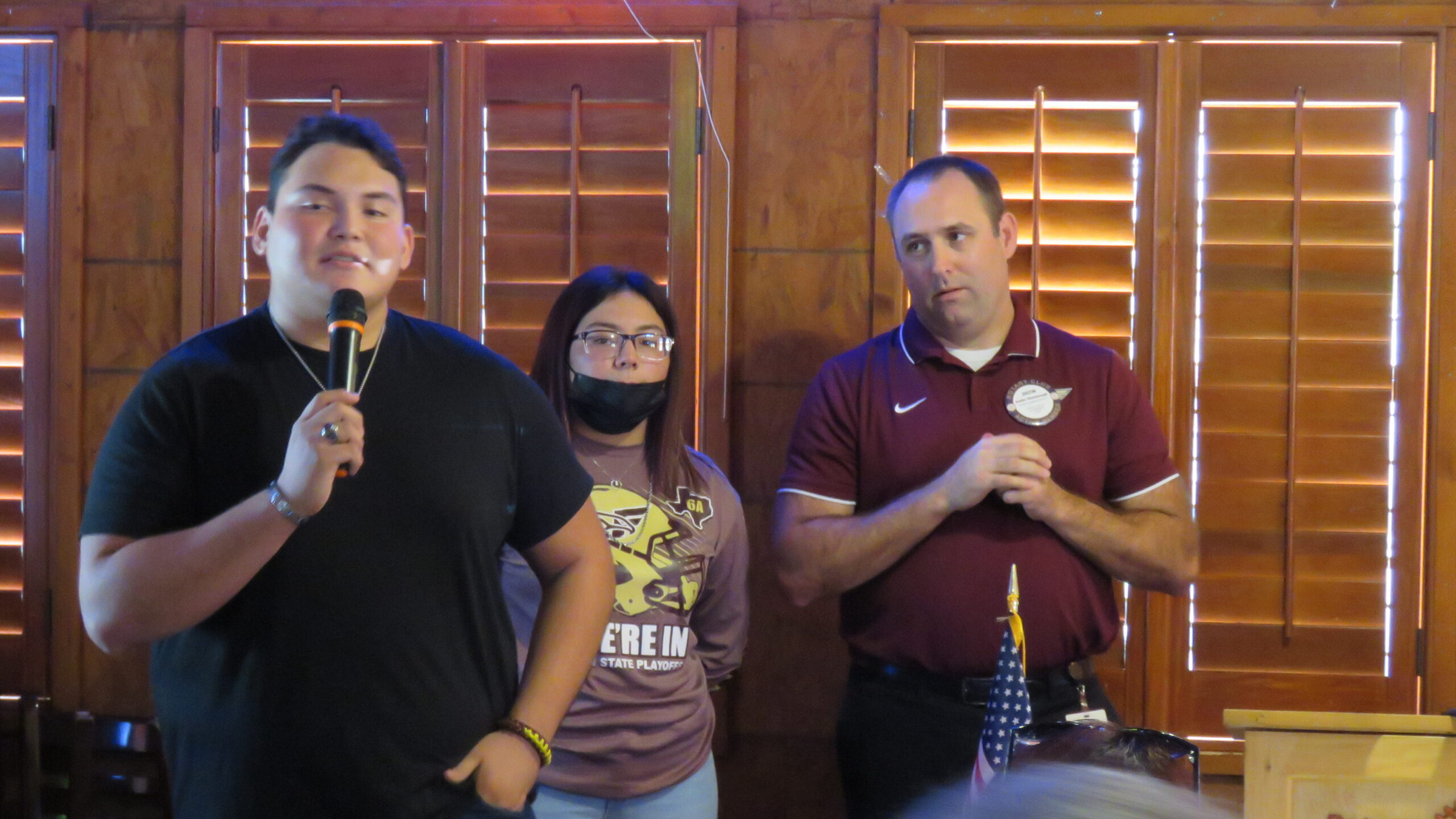 Emilio Flores
Los Fresnos News
On Friday, December 10th, the Principal of Los Fresnos Highschool, Robert J. Stumbaugh presented two seniors to the rotary club meeting in Los Fresnos. The students shared a little bit about themselves.  
The students are a part of the CTE(Career and Technical Education) program at Los Fresnos Highschool and both have family history in the careers they are pursuing.
Teresa Ann Alvarado, a student that just recently made the front page for getting third place overall in the South Texas Torch Cutting competition, along with Jaime Palafox. Mr. Palafox is a part of Falcon Law, which is focused both on Law enforcement and real simulated events in the Law enforcement field. Both these students got to say a few words and share what their future career plans and endeavors will be and how they hope to make an impact.
Teresa Alvarado received a $1,000 scholarship for placing third place overall in competition including one-hundred-seventy competitors from around the Rio Grande Valley.  Ten of the one-hundred-seventy students were from LFHS.  All students received a $500 scholarship for competing.
Ms. Alvarado admits she felt nervous once they called her up at the competition, but that she got up there, and just did what she knew how to do, weld. She explained there were different rounds with different angle welds, four rounds in total. Ms. Alvarado not only represented Los Fresnos Highschool but also was one of the only females in the competition, ranking 3rd place in the entire competition
Jaime Palafox explains, "I joined Falcon law because it's part of my family, not falcon law itself but law." He continues by explaining that his dad is a Sergeant in the Harlingen Police Department and that as he gets older being in law enforcement is something that he wants more and more. Mr. Palafox also says that being a part of DECA has been teaching him business skills that he hopes to also use in the future. He says "Just talking with people, getting out of my shell a little bit." He explains, "(In)Falcon Law, I'm the team leader for SWAT and team leader for Cell extraction… That's helped me get leadership skills to help me and my teams."
The Student's Future Aspirations
Jaime hopes to get a degree in Criminal Justice and eventually be "the head of the U.S. Martial" he says. Ms. Alvarado says that she plans to get her certification in welding and get straight into the workforce. They both agree that the CTE programs have helped them with their career endeavors. Ms. Alvarado comments on this saying, "If you have an opportunity to do something, do it because you never know what will happen."