"I Can Hear Now"
Updated: September 18, 2022
UTRGV, nonprofits, partner to provide hearing aids to children and young adults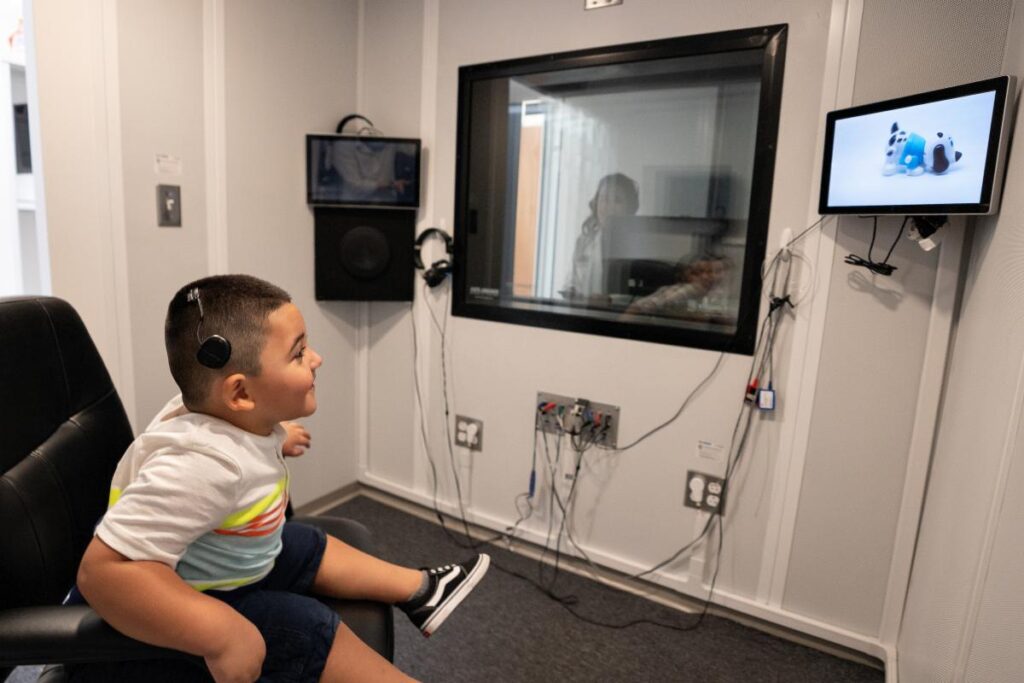 By Karen Villarreal
RIO GRANDE VALLEY, TEXAS – SEPT. 1, 2022 – Jose Suarez Jr. is 19 now, but he has had trouble hearing since at least kindergarten, when his teacher first noticed he wasn't responding to his name during roll call.

Testing revealed he had hearing loss, possibly the result of a high fever when he was just 6 months old.
His mother, Gloria Suarez, said it was very hard, at first, for her and her husband, Jose Sr., to know how they could be supportive.

"I used to go to his first-grade class every day to help him," she said.

Today, Suarez Jr., who is from Edinburg, is hearing well –­ with a little help from assistive technology and a collaborative between UTRGV and several community and business partners.
AID FOR HEARING AIDS
During a pop-up clinic by UTRGV and community partners, held this spring at A+ Audiology in Mission, Suarez Jr. and 17 other children and young adults received new hearings aids ­– free of charge. They also were fitted for and received counseling on how to maintain their hearing devices.

The event was collaboratively sponsored by the UTRGV Speech and Hearing Center; A+ Audiology; and two nonprofit organizations, Aid the Silent and the Disability Chamber of Commerce RGV.

Dr. Sandy Magallan, clinical assistant professor at the UTRGV School of Medicine and an audiologist at UT Health RGV, organized the pop-up clinic, which also made on-site services available – including testing by Magallan and audiologists from A+, who referred patients to an Ear, Nose, and Throat (ENT) specialist (who was on-site for the event) if the hearing loss was likely caused by medical issues, such as an ear infection or tumor.

"In the Rio Grande Valley, there is an extremely limited number of audiologists with the capacity to dispense hearing aids to the hearing-impaired pediatric population," Magallan said. "A lot of parents say they feel they're the only ones on this journey with their child."

The Suarez family isn't alone in needing services for a child who is deaf or has hearing loss:
According to the World Health Organization, nearly 2.5 billion people are expected to have some degree of hearing loss by 2050, and at least 700 million will require hearing rehabilitation.

The CDC reports that almost 6,000 infants born in 2019 in the United States were identified early with permanent hearing loss – 1.7 per 1,000 babies screened.

More than 90 percent of deaf children are born to hearing parents.

Research has found that nearly 1 in 7 Hispanic/Latino adults has some hearing loss.

Only about 16 percent of adults ages 20 to 69 who could benefit from wearing hearing aids have ever used them.
POP-UP COLLABORATION
The first pop-up clinic was held in 2021 and distributed 22 hearing aids. The goal was to simplify the process of getting hearing devices to children.

The second pop-up clinic, held in March 2022, had the same goal: to serve low-income Valley families by bringing hearing devices to children and young adults.

By partnering since 2021, UTRGV and the collaborating organizations have been able to efficiently evaluate 30 children and young adults, and took their ear molds in a prior visit.
That visit served as preparation for a second visit to the pop-up clinic to try on the hearing devices ­– so they could wear them home that same day.

In addition to the nonprofit organizations that collaborated to provide hearing aids and testing services, Texas Hands & Voices (a parent-driven support organization), and the McAllen ISD Regional Day School Program for the Deaf were on hand to provide information for the families.
"We invited other organizations in the area to attend the pop-up clinics because we want to make sure the follow-up community is there," Magallan said.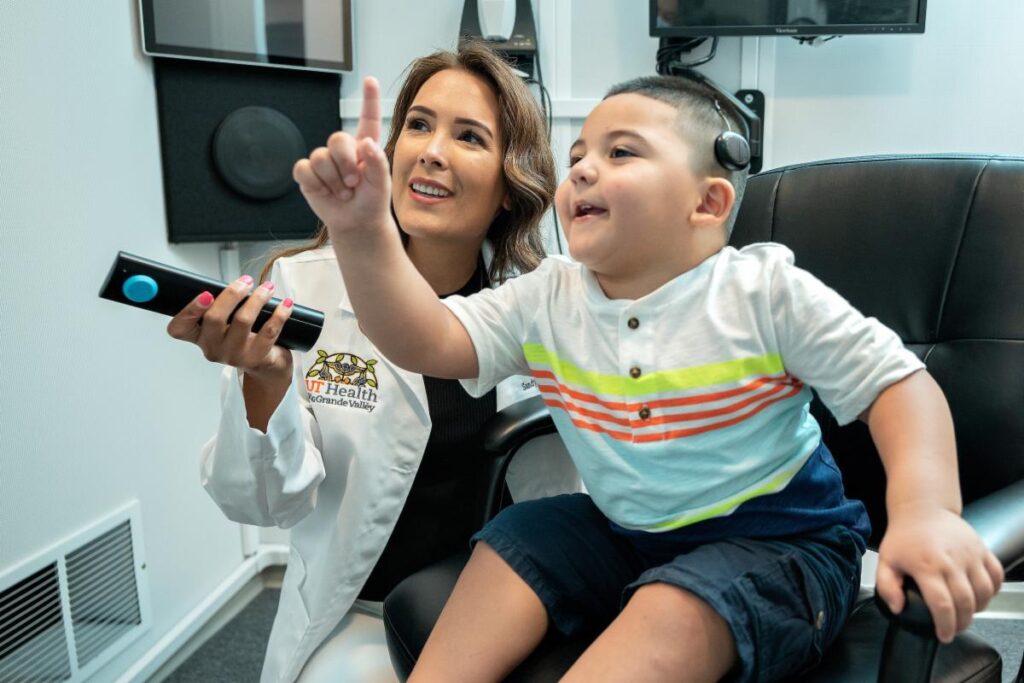 EARLY IMPACT
A parent-infant coordinator was available to inform parents about the communication resources available for children who are not yet of school age, as most of the development of speech and language happens from birth to 3 years of age.
Dr. Jessica Stewart, assistant professor in the UTRGV Department of Communication Sciences and Disorders, said early hearing loss has serious negative consequences on a child's language, and cognitive and social development.

"More severe hearing losses can carry further negative consequences into adulthood, such as limited employment opportunities and an inability to remain independent," Stewart said.
Angel Lopez, 22, who came to the clinic from Weslaco with very limited hearing, said he struggled a lot without hearing aids as a child. When he was older, he still felt he couldn't work.
"When I was small and I couldn't hear, sometimes I would cry," Lopez said through an American Sign Language (ASL) interpreter on-site. "Now, I can hear."

The hearing aids will help him in school, he said during the spring clinic, both at the McAllen ISD Regional School for the Deaf and in his future career as a car mechanic.
He encourages children who are deaf and hard of hearing to continue to work hard,­ and get their hearing aids, if possible.
"Don't give up," he said. "It's a lot better as an adult."
NORMALIZING ADAPTATIONS
UTRGV's Stewart said early intervention can shape the trajectory of a child's life – which is why the collaborative clinic targets babies, children, teenagers and young adults.
"It is critical for children to get hearing devices as early as possible," she said.

Suarez Jr., now studying criminal justice at South Texas College, got his first hearing aids when he was in first grade. He had to learn to adjust to taking them off at night and whenever moisture or perspiration could affect them, like when he was showering, swimming or exercising.

Early on, he had taken it upon himself to learn to read lips and, even as a child, learned to stay vigilant of his surroundings.

"After getting the hearing aids, I was more responsible ­– knowing I had to take care of something that was now part of my body," he said.

The family adapted with other small changes to communicate with him – like whistling a tone he can hear, instead of calling his name. His two siblings, who do not have hearing loss, also respond to dad's special whistle.

His parents always tried to make him feel normal, he said, like anybody else who uses "adaptive technology."

"Lots of people need glasses to see," Suarez Jr. said. "It's the same thing."
And, like glasses, hearing aids need to be updated over time: The body changes, hearing changes, ears grow, and new technologies become available.
TIME TO UPGRADE
UTRGV's Magallan said hearing aids for growing ears are meant to last at least five years, but children might hold onto them a bit longer if they can't get another set.

"Hearing loss might have a progressive nature, and how fast that happens varies," she said. "A virus might cause different loss than a genetic component, so we monitor to make adjustments."

Suarez Jr. is on his fourth set of hearing aids, and he is especially excited about the latest upgrade he received through the pop-up clinic – which are Bluetooth compatible.
"I love music and listen to it all the time," he said. "Now I'll hear better, and I can listen to music and movies whenever I want."

He said he hopes to transfer to UTRGV to study business management and possibly pursue a career as a game warden.

Gloria Suarez, his mother, said she is grateful for the services provided through this collaboration.
"These hearing aids cost a lot and it was hard for us to buy them," she said, "so we're very thankful for all the help."
CHALLENGES BEYOND HEARING
Aside from the cost, Magallan said, families can face other hurdles when trying to help their children get medical assistance for hearing problems.

The process to acquire hearing aids can be overwhelming and can take many appointments over a period of months.
"You can't just show up to an audiologist and go home with a pair of hearing aids," she said. "You have to get clearance from a doctor – then comes the testing, the molds, the fittings."

Before the UTRGV School of Medicine began to offer audiology services, often were referred to Corpus Christi or farther away, so for families with limited funds or transportation, that meant their children might have to go without hearing devices altogether or be limited to using those provided at school.

"That's what's so cool about these clinics ­ – we condensed most of these services into one day," Stewart said. "And Aid the Silent provided transportation today for the families that needed it."

Dr. Patty Roldan, owner and head audiologist at "A+ Audiology" in Mission, said the clinics ease some of the burden on families.

"You can get the best technology ­– the best services – from three different organizations," she said. "You don't see that very often."
CHANGING TRAJECTORIES
Erika Peña attended the pop-up clinic with her daughter, Dalayna, a second grader from Veteran's Memorial Elementary in Roma.

Dalayna lost some hearing in infancy, after emergency surgery to remove a tumor.
"They lend her some hearing aids at school, but she needs them at home," Erika said. "She says she struggles to hear without them."

So, at the March collaborative clinic, Dalayna got a pink hearing aid of her own. After it was fitted to her ear, she practiced putting it on herself, beaming and nodding shyly as she heard Magallan's voice clearly, asking if she could hear her.

UTRGV's Stewart says moments like that make volunteering at the collaborative clinics especially gratifying for her and her graduate students in the communication disorders program.
"I got to see a young man get his hearing aids activated today ­– his first pair since he was a child," she said. "The smile on his face made everything worth it."
SIGNS OF SUPPORT
The pop-up clinics are the start of Magallan's efforts to network with local and state organizations to increase the availability of services to families with children who are deaf and hard of hearing.
To further support the community, the UTRGV Department of Communication Sciences and Disorders had held a "Deaf and Hard of Hearing Awareness Walk" in April at the Region One Education Service Center in Edinburg.

Like at the pop-up clinics, organizations were on hand to provide information about services and to network, among them the Statewide Outreach Center's Deaf and Hard of Hearing Program, Valley Association for Independent Living, and Early Childhood Intervention Services via Texas Health and Human Services.

Magallan said the walk and similar events are intended to be fun for families, but also to be informative.
"We want to get families together so they can mingle with other parents who are on the same journey­ – together, in one place," she said.

Additionally, UTRGV's Department of Communication Sciences and Disorders (COMD) is working with Ashley Pediatrics, the Early Childhood Intervention (ECI) program and other organizations to offer health fairs in underserved areas across the Valley, offering free hearing and speech screenings.