A Heavyweight Bout
Updated: January 19, 2023
Los Fresnos Survives Brownsville Hanna 46-43
By Ruben Rodriguez
Los Fresnos News
The Los Fresnos Lady Falcons played host to the Hanna Lady Golden Eagles for game three of the District 32-6A Calendar. With both teams coming off losses on Tuesday Night, Hanna and Los Fresnos were hungry for a win. The Lady Falcons, who were 1-1 coming off a loss against Weslaco in a thriller, looked to bounce back. Hanna, who is 0-2 in 32-6A play, were needing a win to avoid falling behind.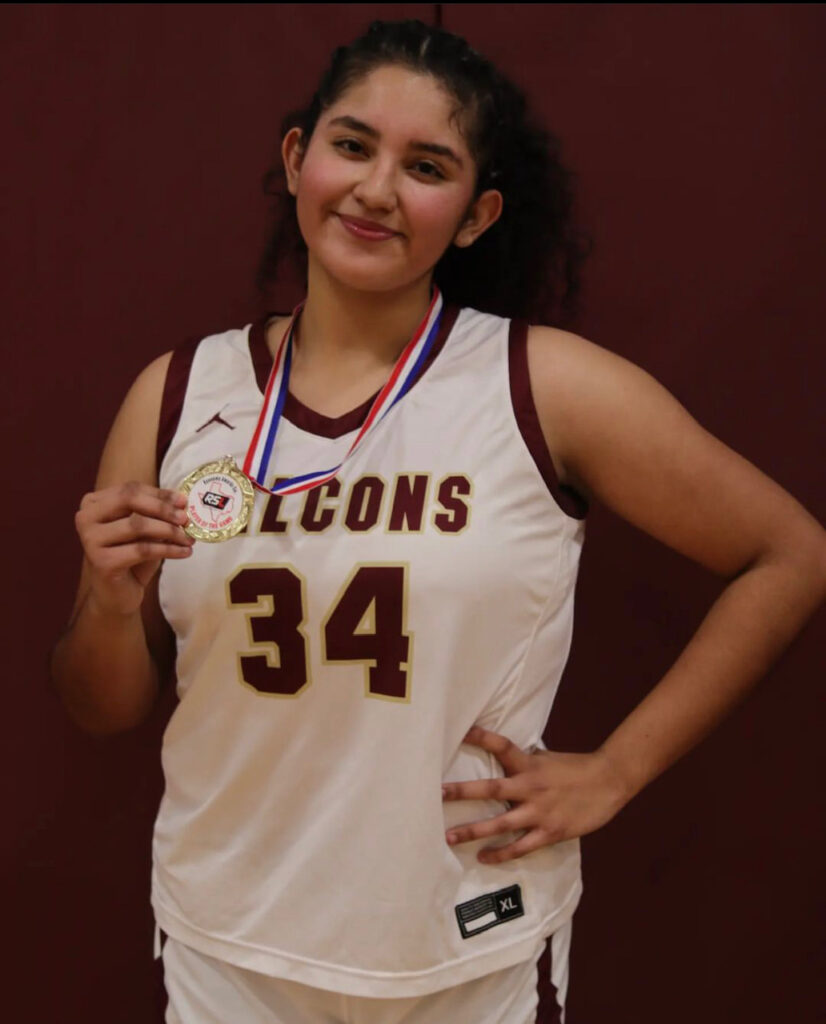 The Los Fresnos-Hanna Series in 32-6A has been a bit one-sided. The Lady Falcons have won the last 16 District meetings over Hanna. The Lady Golden Eagles' last known win over Los Fresnos was on January 16, 2015.

In a lengthy first quarter that saw 13 free throws taken, both teams took advantage of the lengthy quarter to put up some points. Los Fresnos' Aylene Ortega had herself a quarter with 13 points. Hanna's Sofia Roman did some damage as well, draining back-to-back shots from behind the arc, as well as shooting 3-5 from the charity stripe.

Heading into the second quarter 16-15 with Los Fresnos up, both teams played evenly in the second. Roman stayed hot, splashing another three and going 3-4 from the line. Ortega shot 4-4 from the line to give her 13 at the end of the first half. For the Lady Falcons, Shiloh Jones netted in two key layups and Maritza Ortega went coast to coast on a steal and score. For Hanna, Aimee Bustos tacked on a key three to keep the Golden Eagles and Lady Falcons tied 26-26 at the half.

Lady Falcons came into the second half swinging as Aylene Ortega would tack on two quick layups, Maritza Ortega would hit a deep three-pointer, and Olivia Parra would drive a layup in as Los Fresnos controlled the third, only allowing four points by Hanna to make it 35-30 at the end of the third.

The fourth quarter saw Hanna play more aggressively on offense. Aimee Bustos would net in a three, Jenna Saldana and Sofia Roman would net in four points each. Despite the more aggressive offense, the Lady Falcons were able to hold off the Lady Golden Eagles. Jones took charge in the fourth, leading the offense with six points and Ortega cashing in two. Los Fresnos would hold on to win a wild contest 46-43.
"32-6A every Tuesday and Friday night is going to be a heavyweight fight, no matter what the records are. Everyone is fighting for a playoff spot", said Lady Falcons Head Coach Alex Lucio. "That's how the game went, it was back and forth but in the end we pulled it off".

Hanna, who has been riding a seven-game losing streak, was desperate for their first win since December 9. So it was expected that they were going to come out swinging. "We just had to capitalize on the other end, we knew it was going to be a battle", said Lucio. "We had to be mentally tough and we figured it out at the end".

Aylene Ortega, who led the offense with 18 points, was on a roll in the matchup tonight. "We leaned on Aylene tonight, we knew we had the height advantage", said Lucio. "We tried to give her the ball down low and she did her part towards the end".

As the case with every team in 32-6A, there is no time to celebrate a win. Every team needs to be prepared for the next matchup. "San Benito is tough, they've won a couple of big games in non-district", said Lucio. "Like I said, every game is going to be a heavyweight fight. We got to be mentally prepared and limit our turnovers".

Los Fresnos improves to 2-1 in 32-6A play. The Lady Falcons will gear up against San Benito on Tuesday Night. Meanwhile, Hanna will still be in search of their first district win as they will host Weslaco on Tuesday.