Los Fresnos Outlasts Brownsville Hanna in District 32-6A Opener
Updated: January 20, 2023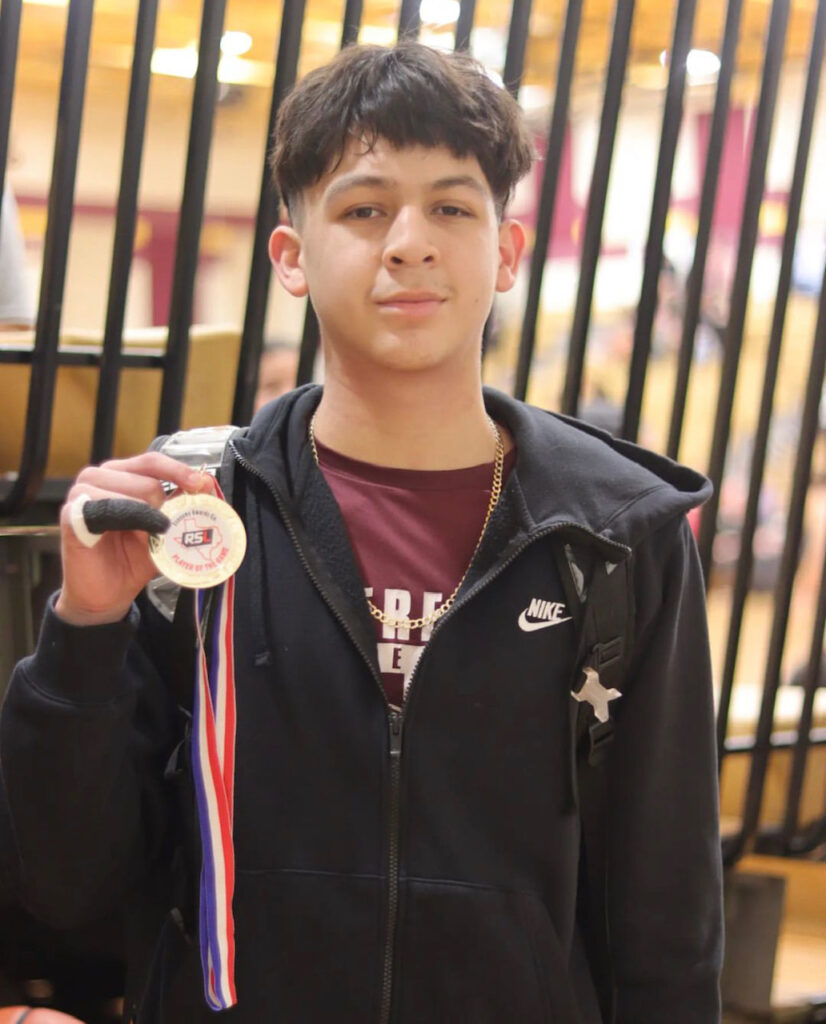 By Ruben Rodriguez
Los Fresnos News
The Los Fresnos Falcons played host to the Brownsville Hanna Golden Eagles in the District 32-6A Opener. After both teams had successful non-district schedules, the Falcons and Golden Eagles were ready to get to work. Last meeting saw Hanna pull off a late comeback at Los Fresnos to split the season series in 2021-22. After missing the playoffs in 2021-22, the Falcons have gone through a tear in non-district, finishing with a 19-6 record. Meanwhile, the Golden Eagles held a 20-8 record in non-district.

Hanna's offense got started early on as Ricardo Roman netted in nine points to jumpstart the Golden Eagles. Assisting Roman was Jared Zarate with a three and Emiliano Hernandez with two points. The Falcons' response was led by Luis Ramirez, who had a six point first quarter. Los Fresnos trailed Hanna 14-9 at the end of the first quarter.
Los Fresnos was able to mount some offense as JJ Salazar and Gio Galvan combined for 15 points in the second quarter. Los Fresnos was able to render Roman scoreless in the second quarter. Kevin Flores was able to pick up six points to keep Hanna's offense going. Los Fresnos now led 29-25 at the half.

Third quarter saw the Falcons take control as JJ Salazar netted seven points. Luis Guerra would help the cause with six points. Ricardo Roman re-emerged in the third, scoring in six and kept Hanna in the fight.
The fourth quarter saw Free Throws be the difference maker as the Falcons shot 10 for 13 from the line. Gio Galvan went 5-6, Jude Barrera went 3-3, and JJ Salazar, Luis Guerra both went 1-2. For Hanna, the Golden Eagles struggled from the line, shooting two for six.

Roman again took charge in the fourth quarter for Hanna with six points in the quarter. Flores followed suit with five points. The Falcons were able to hold off on defense to win 64-54.

"We didn't have our best game tonight, but we were able to get the win", said Los Fresnos Head Coach Marco Hinojosa. "Hanna is a great team, I'm excited for this start, but now we got to focus our attention on San Benito".

In 32-6A, which has been known to be a highly competitive district, there is no time to celebrate the wins or losses. "It's always good to start off 1-0, it's always hard to get that first win," said Hinojosa. "We didn't win anything tonight but a game. Win or lose we have to put this behind us and focus on our next game".
Gio Galvan and the Falcons had a great performance. Free throws were crucial in the fourth and proved to be the difference maker. "It's a total team effort, we had three guys in double figures and we had players hit crucial free throws. A total team effort", said Hinojosa. "The 'We over Me' is what we preach, that is the type of team we had tonight".

Galvan, Salazar, and Ramirez all finished off in the double digits in points. Chemistry certainly played a factor in the team win tonight. "Credit to our non-district schedule, we are battle tested. We've seen so many different styles of offense and defense", said Hinojosa. "We were ready for that tonight. I'm proud of the team for sticking with it and we ended up winning".

Los Fresnos improves to 1-0 in 32-6A play, 20-6 on the season overall. Hanna falls to 20-9 overall, 0-1 in 32-6A play. Los Fresnos will travel to San Benito Tuesday Night while Hanna will host the Weslaco Panthers.