WINGS SPLIT SERIES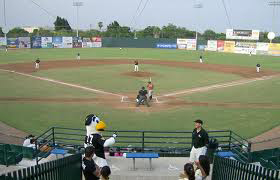 HARLINGEN, Texas-The Rio Grande Valley WhiteWings split the four game series, with an 8-5 victory over the Alexandria Aces at Harlingen Field Sunday night.
The Rio Grande Valley WhiteWings were off to a hot start scoring six runs in the bottom of the first inning as Albert Carpen led the inning off with a base hit.
Thomas Shull then drew a walk bringing Aaron Gates to the plate. Gates then belted a base hit scoring Carpen giving the Wings an early 1-0 lead. Gates's RBI added to his United League lead.
The Wings were able to score five more runs in the frame giving starting pitcher Antony Bello a six run lead.
Wings starter Antony Bello (1-2) went 5 and 2/3rd's surrendering five runs, however Bello was able to pick up his first win of the year thanks to the eight runs given by his offense.
Alexandria's starting catcher Doug Freemen led the fourth inning off with a towering home run over the left field wall cutting the lead to 6 to 3. Ace's Michael Haynes then followed with a base hit of his own. Two more runs would come into score as relief pitcher Paul Montalbano got the Wings out of a bases loaded situation.
Offensively for the WhiteWings Albert Carpen went 2-for-4 on the night, along with Aaron Gates's 3-for-5 night collecting two RBI's. Gates now has 18 RBI's on the year he leads the United League in that category. Wings starting catcher Johnny Bowden collected two hits on the night going 2-for-2 along with two walks and an RBI.
The win put both clubs at 8-8, tied for second place with the San Angelo Colts who defeated first place Fort Worth (10-6) 7-5 Sunday.
Rio Grande Valley is set for a four game series versus the Edinburg Roadrunners here at Harlingen Field. First pitch is 7:05
Call the WhiteWings office for tickets at 956-423-WING (9464). Gates Open 6:00, First Pitch 7:05 p.m.