Valley Man Receives Life-Saving Heart Procedure 21 Minutes After Arriving At Harlingen Medical Center
Patient, family grateful for rapid, record-breaking response time by EMS, hospital doctors, nurses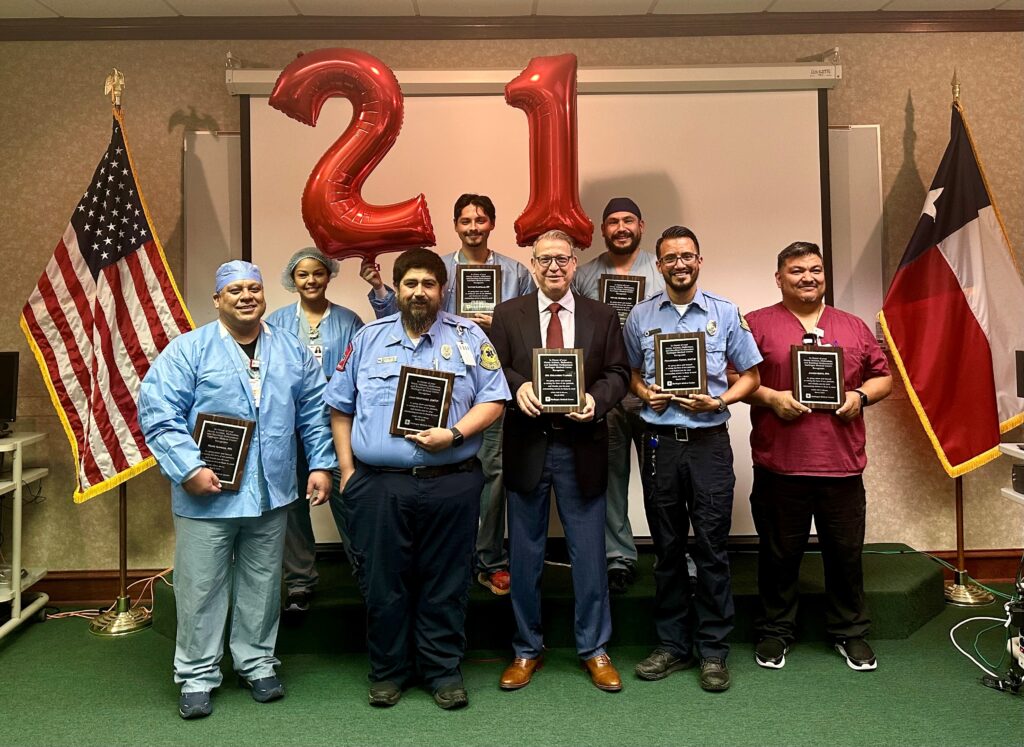 HARLINGEN – A Valley man received a potentially life-saving heart procedure within 21 minutes of arriving at Harlingen Medical Center — with the rapid, record-breaking response time by hospital doctors, nurses and EMS staff resulting in a significantly better outcome for the patient.

The patient, from the San Benito area, had a blocked artery, which resulted in severe chest pain. The patient was transported by ambulance to Harlingen Medical Center, where he was attended to very quickly, according to the patient's wife.

Dr. Eduardo Flores, Cardiologist with the South Heart Clinic in Harlingen performed the life-saving cardiac catheterization procedure. In many cases, these procedures involve inflating a tiny balloon to open an artery which has been clogged by fatty substances such as plaque and cholesterol (angioplasty).

Rapid response to emergencies in the Harlingen / San Benito area is made possible by heroic emergency medical services teams with the South Texas Emergency Care Foundation, Inc. (STEC).

While many hospitals aim for a "door-to-balloon" time of 90 minutes or less, team work between EMS and the physicians and staff at Harlingen Medical Center enabled that goal to be achieved in less than a quarter of the target time.

"This record-breaking door-to-balloon time was made possible by rapid EMS diagnosis of a heart attack in progress, a pre-hospital EKG with proper diagnosis by the emergency medical technicians, and transmitting of the EKG to the ER of Harlingen Medical Center," Dr. Flores said.

"I was handed the EKG and hurried to the emergency room of Harlingen Medical Center, to be surprised by the fact that the patient was not (yet) in the ER!" Dr. Flores added. "The cath lab team and I waited for the patient to arrive and hurried him to the cath lab without delay. We achieved a Cameron County record-breaking door-to-balloon time (balloon opening of the blocked heart artery) in just 21 minutes."
Dr. Flores said this would not have been possible without the EMS team, EKG technology in the field and transmitting technology. "Hats off to STEC (South Texas Emergency Care)," he added.

In honor of the EMS' outstanding performance and dedication, Harlingen Medical Center recognized STEC emergency medical technicians with a plaque for "high standards of excellence" and for "going above and beyond in customer service."

For more information about specialized heart procedures at Harlingen Medical Center, please call (956) 365-1042 or visit www.HarlingenMedicalCenter.com.