Ten Los Fresnos High School Seniors Earn Associate's Degree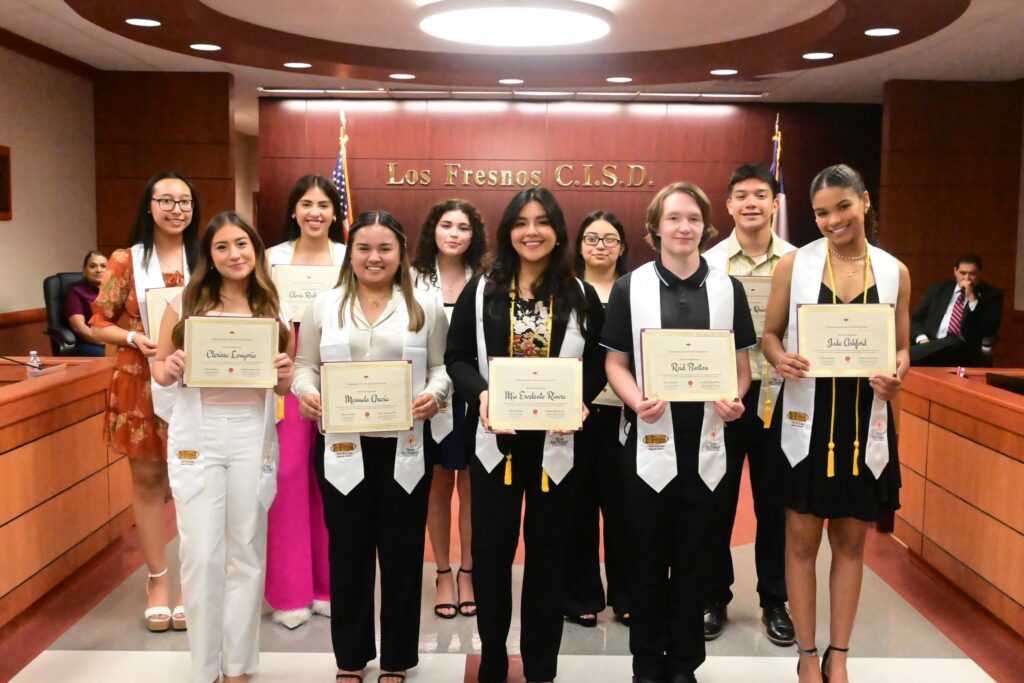 Ten Los Fresnos High School graduating seniors have earned an Associate of Arts degree in General Studies from Texas Southmost College.

The seniors who obtained their Associate's Degree are Jada Ashford, Reid Burton, Mia Escalante Rivera, Manuela Gracia, Clarissa Longoria Francisco Quintero, Valeria Ramos, Victoria Robles, Alexis Rodriguez, and Banelly Vega. The students were able to take part in Commencement exercises for Texas Southmost College at the Jacob Brown Memorial Auditorium on Saturday, May 13, 2023.

The students earned the degree through the Dual Enrollment program, a no-cost opportunity to enroll in college-level course work that satisfies both high school graduation and college credit requirements. The students completed 60 college credit hours in order to obtain the Associate's Degree.

"Los Fresnos CISD is proud of the hard work and commitment exhibited by these students. They are graduating with many benefits, including increased college and career readiness which will make their postsecondary transition easier," said Sandra Romeros Ruiz, LFCISD Director for Advanced Academics.
Participation in the Dual Enrollment program is open to all Los Fresnos United and Los Fresnos High School students once they have met college placement eligibility criteria through the TSIA2 assessment. Students may contact their assigned counselor or a College and Career Center staff member for more information or to begin the process.

Upon successful completion of dual enrollment course work, students may apply earned college credits towards an Associate Degree at TSC or may transfer their credit to other colleges or universities.

"It's never too late to start the Dual Enrollment process. While some students are ready to start their coursework as early as freshman year, others may start later. It varies from student to student," said Romeros Ruiz.

LFCISD Dual Enrollment courses include a mix of core course requirements and elective courses in specified areas of study. The majority are taught by adjunct instructors, which are LFCISD teachers who also meet the requirements to teach courses at the college level. All courses are taught on campus and students do not need to travel for any coursework.

The College and Career Center will assist students research the transferability of their credits to their chosen higher education institution, but they are generally accepted by most public schools within the state of Texas.

"We are very grateful to Texas Southmost College for this partnership and our adjunct instructors who allow us to provide this opportunity to our students," said Romeros Ruiz.