LADY FALCONS DOMINATING TO START DISTRICT PLAY
Updated: September 26, 2014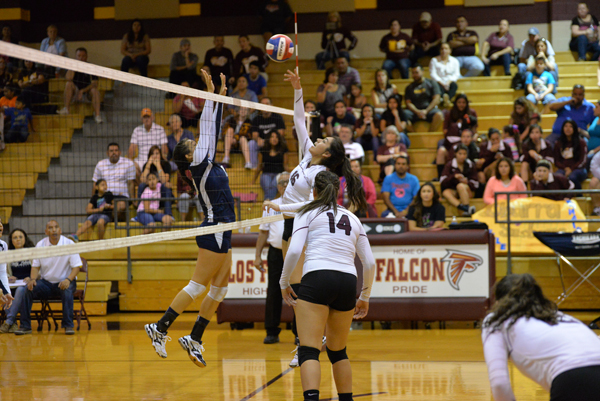 SAN BENITO—Continuing their fine form, the Los Fresnos Lady Falcon volleyball team swept their first two opponents in 32-6A district play. The latest victims were the San Benito Lady Greyhounds, who fell to the Lady Falcons in straight sets this evening, 25-17, 25-16, 25-16. The Lady Falcons dominating play was simply a carry-over from their first district win of the season over Brownsville Lopez the previous Saturday, 25-9, 25-10, 25-8.
San Benito is new to the district this year, but the Lady Falcons were familiar with this foe, having ousted them in the first-round of the playoffs in 2013. This evening proved to be no different, as the Lady Falcons showed strong net play from Sam Ibarra and Joseline Caraveo, and tremendous hitting from Jackie Kingsbury, who led the team with 16 kills and 3 aces. Alex Moya controlled the back line with great passes and led the team with 18 digs, and Alex Cano showed her all-around skills by adding 5 kills and 11 digs.
Peyton Sales directed the offense all night and led the way with 24 assists, 2 aces, and 6 digs. Miranda Gonzales chipped in with 8 assists.
In an earlier meeting of two playoff teams from 2013, Brownsville Lopez visited the Falcon Gym for the opening of district play. The Lady Falcons jumped out to a huge lead early and never let up. All 12 girls on the team got plenty of playing time, as the Lady Falcons led from start to finish.
Kills were evenly distributed throughout the team, with Alex Cano leading the team with 8, Joseline Caraveo pounding out 6 kills, and Jordan Martinez, Sam Ibarra, and Jackie Kingsbury adding 5 kills each. Peyton Sales again led the team in assists with 21, with Miranda Gonzales and Martinez pitching in 5 assists and 4 assists, respectively.
With the great start to district, the Lady Falcons move their overall record to 22-9, 2-0 in district. And, for only the second time in Coach Becky Woods's illustrious 3-year career, the Lady Falcons are currently ranked #1 in the Rio Grande Valley Volleyball Rankings, according to RGV Sports. Congratulations, Lady Falcons!
More photos:
[GALLERY=9]