Camarillo Earns Prestigious Gates Millenium Scholarship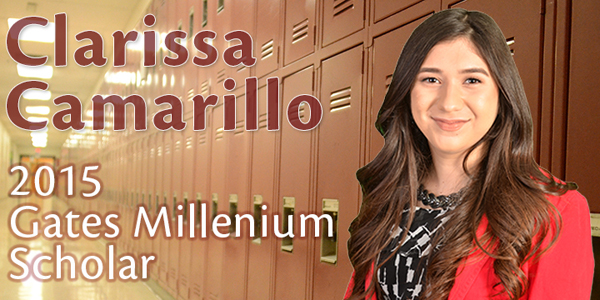 Los Fresnos High School senior Clarissa Camarillo has been selected from a pool of 52,000 candidates as a 2015 Gates Millennium Scholar.
The GMS is considered one of the most prestigious and lucrative scholarships in the nation. With the GMS, all of Camarillo's college expenses are covered for her undergraduate education. The scholarship also covers graduate studies in the fields of mathematics, sciences and public health.
Camarillo, ranked among the Top 10 students in the Class of 2015, has been chosen into a short of 1,000 awardees for her academic achievement, leadership skills, and commitment to community service.
Each year, the GMS selects top minority students in the U.S. to receive good-through-graduation scholarships. The GMS supports of the cost of education by covering unmet financial need and providing self-help aid.
Camarillo was recommended by Digital and Interactive Media teacher Esther Cantu-Castillo and nominated by Physics teacher Misty Heredia.
"It's an honor to have been selected," Camarillo said. "At the beginning, I was unsure if I would apply because I knew there were so many applicants. I would feel worse not trying than having tried and failed, but at least I knew I had tried."
Camarillo had to write eight essays to apply for the scholarship. She had two previously written for other scholarships applications that she had to tweak.
She plans to attend The University of Texas at Austin and major in Public Health, and hopes to be an optometrist.
Camarillo is the third LFHS student in four years to be awarded the scholarship. Deborah Sandoval, a 2012 graduate, now attends Princeton University (N.J.). Diana Cabrera, a 2013 graduate, now attends Seattle Pacific University (Wash.)