LFHS/LFU UIL Academics Teams Travel to Regionals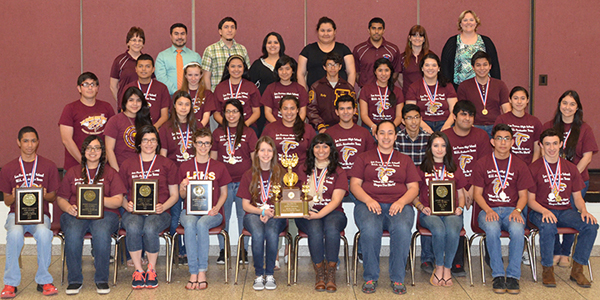 Thirty-eight students will represent Los Fresnos High School and Los Fresnos United at the UIL Academics Region IV Meet Friday and Saturday at The University of Texas at San Antonio.
Together, they represent the team that captured the UIL Academics District 32-6A Championship April 11. The top team in each event and top three individual finishers in each event from the district meet qualified for UIL Regional Meet.
UIL Academics is made up of five speaking events and 16 non-speaking events.
Six LFHS teams qualified for Regionals: Calculator Applications, Current Issues and Events, Computer Science, Literary Criticism, Science, and Spelling and ocabulary
Three teams qualified as Alternates – Journalism, Mathematics and Number Sense.
Regional qualifiers who finish in the top two position in their events qualify to advance to the UIL State Meet May 28 in Austin. First place teams also advance to the state meet.