What's For Dinner?

It's what many of us begin thinking about come mid-day. What should I make for dinner tonight? If you're like me, you'd like to prepare a delicious and nutritious meal everyone will enjoy. Jamie's Monster Meatloaf recipe is one way to have the best of both worlds. This dish is a perfect combination of both Lean Protein and Complex Carbohydrates, and tasty just like mom would make, but modified for a heart healthier alternative.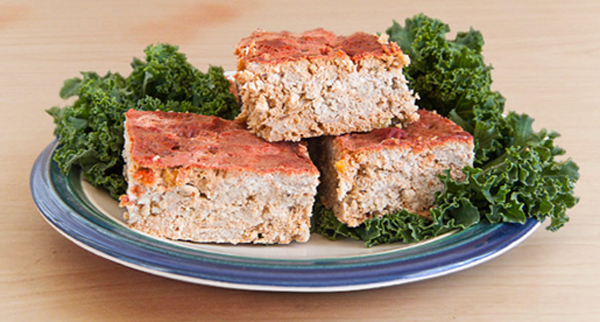 Jamie's Monster Meatloaf Recipe
Ingredients
1-1 ½ cup of fresh chopped onions and peppers
1 tsp salt
1 tsp pepper
½ tsp dried thyme
1 tsp minced garlic
¼ cup low-sodium soy sauce
¾ cup low-sodium chicken broth
2 tsp tomato paste (no salt added)
3 lbs extra-lean ground turkey
1 cup quick cooking oats
4 egg whites
1 cup reduced sugar ketchup (no high fructose corn
syrup)
Directions
Preheat oven to 325 degrees. Prep a 9×13 dish with non-stick spray. In a large sauté pan cook the onions and peppers and thyme with salt for about 5 minutes. Next add garlic, soy sauce, chicken broth and tomato paste, mixing until heated through. Set aside to cool.
In a large bowl, combine ground turkey, egg whites, oats and (cooled) sautéed mixture. Mix by hand until all ingredients are well blended and press flat into the 9×13 dish.
Spread ketchup in an even layer on top of the prepared turkey and place in the oven to bake for 1 hour and 20 minutes.
Makes 24 Servings
Calories 83 per serving
Fat 7 grams
Carbs 3 grams
Protein 15 grams
Attend one of the FREE exercise programs offered by the City of Los Fresnos at Los Fresnos Memorial Park Monday – Friday at 8:30 am, Tuesday – Friday at 7:00am, or 7 pm Tuesday – Friday.
For more information contact Christine De La Rosa, Los Fresnos Community Health Worker at 956-407-3348 or email at [email protected] or Los Fresnos City Hall at 956-233-5768.