UTRGV Center for Mexican American Studies
Hosts Literary Landmark unveiling in honor of Gloria Anzaldúa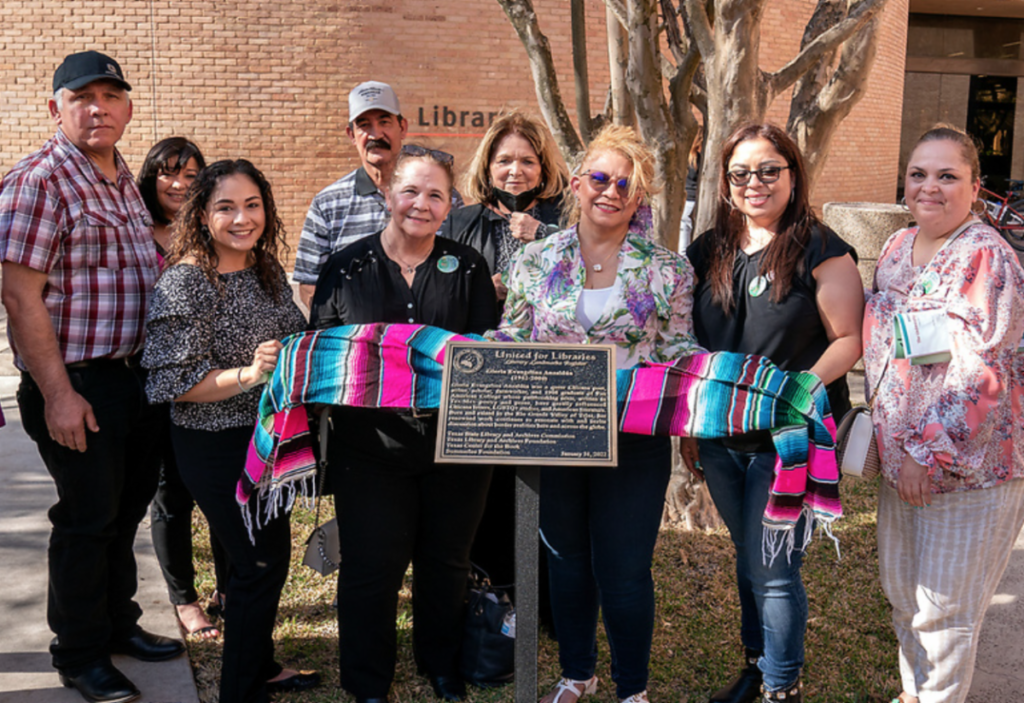 By Amanda A. Taylor-Uchoa
EDINBURG, TEXAS – APRIL 4, 2022 – El Retorno Al Valle: Literary Landmark Unveiling and Symposium honoring Gloria Anzaldúa was held at her alma mater, UTRGV, on Monday, March 28, on the Edinburg Campus.
A symposium about Anzaldúa was held during the day at the UTRGV Ballroom, and in her honor, the literary landmark unveiling – attended by Anzaldua's family and the UTRGV community – was held at the UTRGV Library Courtyard.
"We are honored that members of Anzaldúa's extended queer familia presented at these historic events, including Graciela Sanchez, Anel I. Flores, and Ari Chagoya, to name a few," said Dr. Emmy Perez, associate director for the UTRGV Center for Mexican American Arts.
"One of the reasons this landmark is important is because Anzaldúa was never invited to speak on our campus, to our knowledge. The other and more obvious reason is that she was an outstanding poet and writer. She crafted powerful images based in the natural world here en el Valle that resonate beyond description."
The literary landmark recognizing Anzaldua is now one of six in the state. Anzaldúa is the first Chicana author to be honored with this distinction in Texas.
Anzaldúa, a queer Chicana poet, writer and scholar, was born and raised in the Valley, where she worked as a farmworker.
She wrote and published numerous groundbreaking texts, including Borderlands/La Frontera: The New Mestiza and Luz en lo Oscuro/Light in the Dark: Rewriting Identity, Spirituality, Reality.
Her work and life are testaments to her contributions in numerous fields of study, and presenters discussed her impacts – past and present – with a look to the future.
"El Retorno Al Valle" was organized by the UTRGV Center for Mexican American Studies (CMAS), Humanities Texas, and multiple UTRGV, state and local partners.
"Gloria Anzaldúa means a lot to many people in the community," said Dr. Stephanie Alvarez, director of the UTRGV Center for Mexican American Studies and co-organizer of the event.
"For many faculty members and students, she has opened new possibilities of seeing the experience of living on the border and being a Chicana, and our students really reflect on that. I think it's important the university has recognized her experiences as a student, as an alumna, and the major contributions she's made to literary studies theory."
Scholars, poets, activists and visual artists from the Valley and beyond the region gathered to consider the impact of Anzaldúa's work.
The symposium events were free and open to the public.
THE LEGACY OF GLORIA ANZALDUA
Gloria Evangelina Anzaldúa (1942-2004) was valedictorian of Edinburg High School in 1962, graduated from UTRGV legacy institution Pan American College in 1968, and taught in the PSJA school district from 1967-1973.
She attended graduate school at UT Austin and UC Santa Cruz, where she obtained a posthumous Ph.D.
Aside from writing and publishing numerous texts, she served as editor/co-editor of several anthologies, including This Bridge Called My Back: Writings by Radical Women of Color and this bridge we call home: radical visions for transformation.
Her work also is collected in Interviews/Entrevistas, and The Gloria Anzaldúa Reader edited by AnaLouise Keating. Anzaldúa is the author of two children's books: Friends from the Other Side/Amigos del Otro Lado and Prietita and the Ghost Woman/Prietita y La Llorona.
In her book Borderlands/La Frontera (1987), in the essay "How to Tame a Wild Tongue," Anzaldúa writes about her university experience in the 1960s: "At Pan American University, I, and all Chicano students were required to take two speech classes. Their purpose: to get rid of our accents" (76).
LITERARY LANDMARK DESIGNATIONS
To earn a Literary Landmark designation, a group or individual must be responsible for the continued designation. A designation itself can take up to eight weeks to approve, as the honoree must have a compilation of background materials that will corroborate the role of the site, including the author's work and writings.
Norma Elia Cantu, president of the American Folklore Society and professor in Humanities at Trinity University in San Antonio, said these designations are not easy to get.
"The American Library Association (ALA) designates particular locations that are significant to the literary history of the country, and they designate that spot a literary landmark," Cantu said. "It's recognized with a plaque, and it stays there in perpetuity. … I believe, in Texas, we only had five up to this year."
The other Texas Literary Landmarks include:
1999 O. Henry House and Museum, Austin, TX – William Sidney Porter, known by his pen name, O. Henry, lived here between 1893 and 1895. Dedicated 1999.
2000 Menger Hotel – various, San Antonio, TX – The Menger, opened in 1859, is the oldest Hotel west of the Mississippi that has been in continual operation. Some of the literary guests include author Oscar Wilde, author O. Henry, and author Frances Parkinson Keyes. Dedicated 2002.
2002 Katherine Anne Porter home, Kyle, TX – Katherine Anne Porter, born in 1890, lived in the house until 1902. Dedicated 2002.
2009 Lorenzo de Zavala State Archives and Library Building – various, Austin, TX – Noted Texas authors, including James Michener, Walter Prescott Webb, and Jack "Jaxon" Jackson used the state archives for research and inspiration. Dedicated Dec. 3, 2009.
2011 Mansfield Public Library – John Howard Griffin, Mansfield, TX – John Howard Griffin lived on a farm in Mansfield during the time he conducted the social experiment chronicled in his book author of Black Like Me. Dedicated Feb. 27, 2011.
This month's designation makes the sixth Literary Landmark in Texas:
Dr. Gloria E. Anzaldúa Literary Landmark, University of Texas Rio Grande Valley Library, Edinburg, TX
The day before the symposium, two community-based pre-symposium events were held at Valle de la Paz Cemetery in Hargill, where readings of Anzaldúa's work was shared and at the Museum of South Texas History in Edinburg.
Plans are underway to change the outside patio area near the library to Gloria Anzaldúa Plaza, where the Literary Landmark plaque stands.
"When Dr. Norma E. Cantú and I applied for the landmark, I was thinking of the many people here en el Valle who have been influenced by Anzaldúa's work," Perez said. "This landmark was a long-time coming. Members of our local team collaborating on the event wrote the plaque inscription. We worked hard to honor her use of Tex-Mex in her writing, and her contributions to Chicana, LGBTQ+ and American Literature."
Alvarez said honoring Anzaldúa has come full circle, and noted that she did not have an easy academic or writing career.
"I think it's important that UTRGV has acknowledged the treatment many Chicano students received early on at the university, and now, here we are, acknowledging that and honoring the work of this great writer," she said.
For more information on the event and on Anzaldúa, visit the website https://sites.google.com/view/elretorno/organizing-planning-committee?authuser=0