Baccalaureate at Los Fresnos Highschool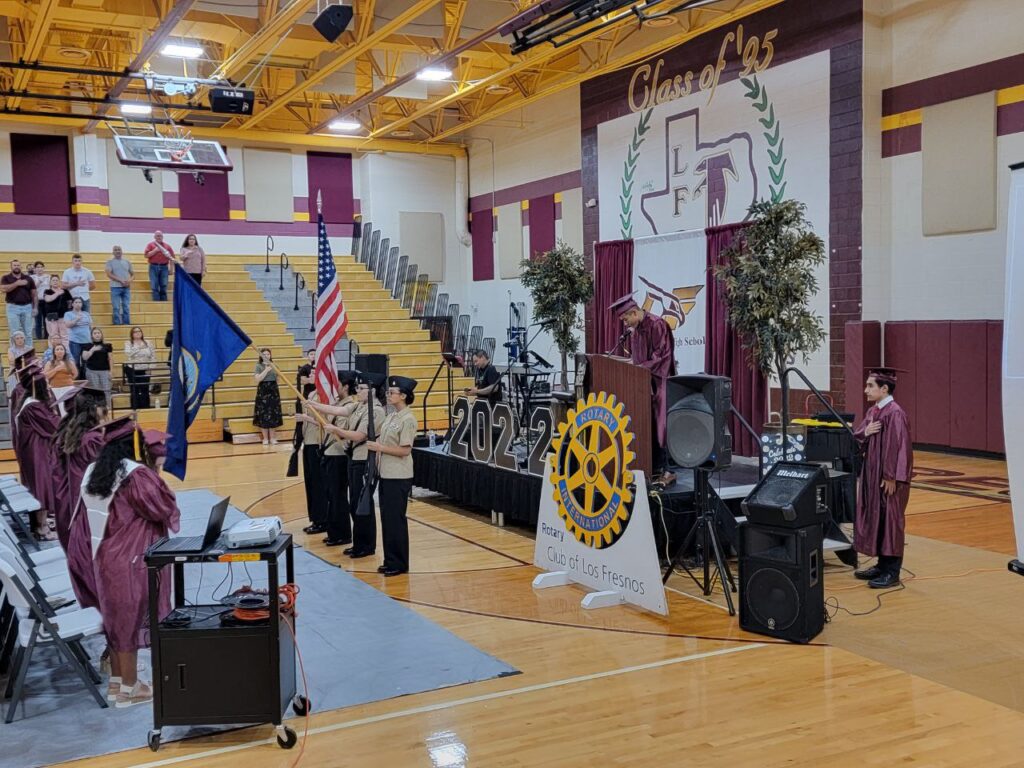 Emilio Flores
Los Fresnos News
On Wednesday, May 18th Los Fresnos Highschool held their 2022 Baccalaureate for the Senior class.
The event was opened by the Los Fresnos Navy JROTC Colorguard who did an excellent job presenting the American flag while Genesy Rivera led the Pledge of Allegiance and Karlee Vasquez, led in singing the National Anthem. Christian Alvarado, this year's Vice President of the Interact club, acted as the Emcee for the night, and Chad Bresson, pastor at The Table of Los Fresnos gave a speech to the graduating seniors that attended.

There were several different community members that shared a few words with the senior class including the Los Fresnos Rodeo Chairman, The Rotary Club President, the Los Fresnos High School Class of 1985 member also gave a few words. Here's some of what they shared.

The Los Fresnos Rodeo Director, Larry Cantu took a moment to thank all the volunteers that helped during this year's 2022 Los Fresnos Rodeo. There were several students from Los Fresnos High School who helped; some put in 13hr days. Cantu shared a few words to congratulate the Senior Graduates and their accomplishments.

The Los Fresnos Class of 1985 alumnus, Jimmy Manrique explains that they, as a class reunion, had a contest to design a t-shirt for the reunion celebration. He says that through it they were able to raise 2,812 dollars.

In closing, the Los Fresnos Rotary Club presented the winners of the scholarships. Each Senior who walked in was to write their name for a drawing, at the end Rotary drew out an index card to reveal the winner of these scholarships.

All together, Rotary shares that through their fundraising events and generous sponsors they were "able to award $7,600 in scholarships and $1,500 indoor prizes to the LFHS Seniors that attended the Senior Celebration."

For each student, Rotary handed out seniors free gift cards to congratulate them on their accomplishments.

Los Fresnos Principal, Justin Stumbaugh says "We are appreciative of the community and of the organizations that donate." He says "It's always a great thing when our kids can have any kind of financial support." Stumbaugh says that overall it was a great ceremony. Congratulations to the Los Fresnos Seniors Class of 2022!

Listed below our the Seniors that received a Scholarship
Jose Munoz $1,000 Rotary Club of Los Fresnos
Karlee Vasquez $1,000 Rotary Club of Los Fresnos
Ashly Santos $500 Rotary Club of Los Fresnos
Avry Hayes $500 Rotary Club of Los Fresnos
Rochelle McGinnis $1,000 LFHS Alumni/Rotary Club of LF
Daniel Ramirez $1,000 LFHS Alumni/Rotary Club of LF
Virginia Lopez $500 LFHS Alumni/Rotary Club of LF
Eethan Ramos $500 LFHS Alumni/Rotary Club of LF
Katelyn Barrera $500 Los Fresnos Rodeo
Jennifer Laznovsky $200 Kent Mallquist Scholarship/Henderson Capital
Genesy Ramirez $200 State Farm
Briana Arce $200 State Farm
Dulce Izaguirre Hurtado $250 Costal Events Rentals
Elena Salazar $250 Rio Grande Waste