Ethel L. Whipple Library Holds Summer Reading Camp for Kids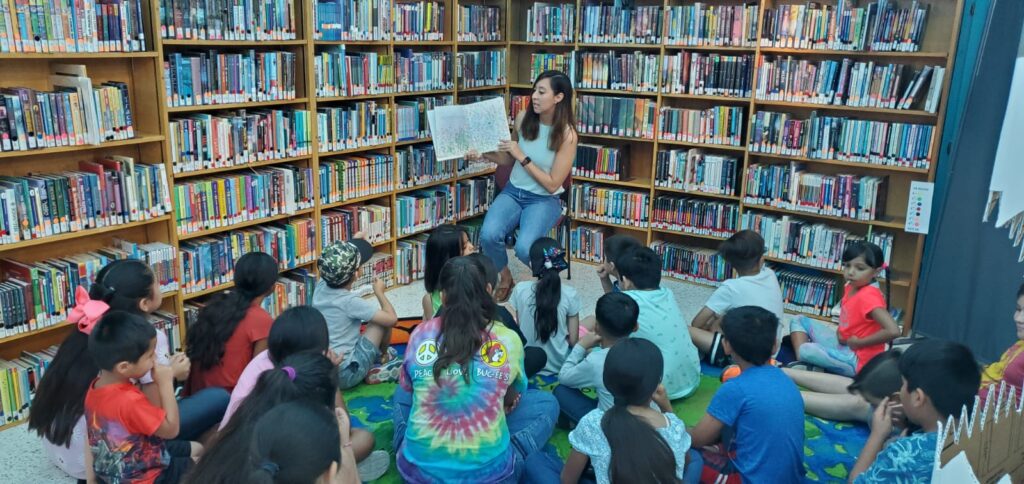 Emilio Flores
Los Fresnos News
Los Fresnos, Texas — Los Fresnos Ethel Whipple Memorial Library has been hosting a kid's summer reading camp at the library. The camp is a 4-week program that runs Monday-Thursday from 10:30 AM to 2:30 PM. However, in order to serve more kids, Iris Garcia, the head of the Children's Department has decided to divide the week into 2 different sessions. Session A attends the program Mondays & Wednesdays and Session B attends the program Tuesdays & Thursdays.
Each day at camp the children have a new lesson and with each new lesson, Miss Garcia has organized different crafts for each of them. 
For example, she says, "Week 1 we went over the basics.. and learned about the different layers of the oceans and the sea animals that live in each layer, and the second lesson was the basic parts of a fish. I tie the lesson with a book during Storytime and a hands-on craft to allow the kids to express themselves and use their creativity." She also shares that in last week's lesson they learned about pirates.
"One of the biggest goals for our Summer Reading program is to keep the kids engaged during the summer with literacy and learning to help fight the summer slide."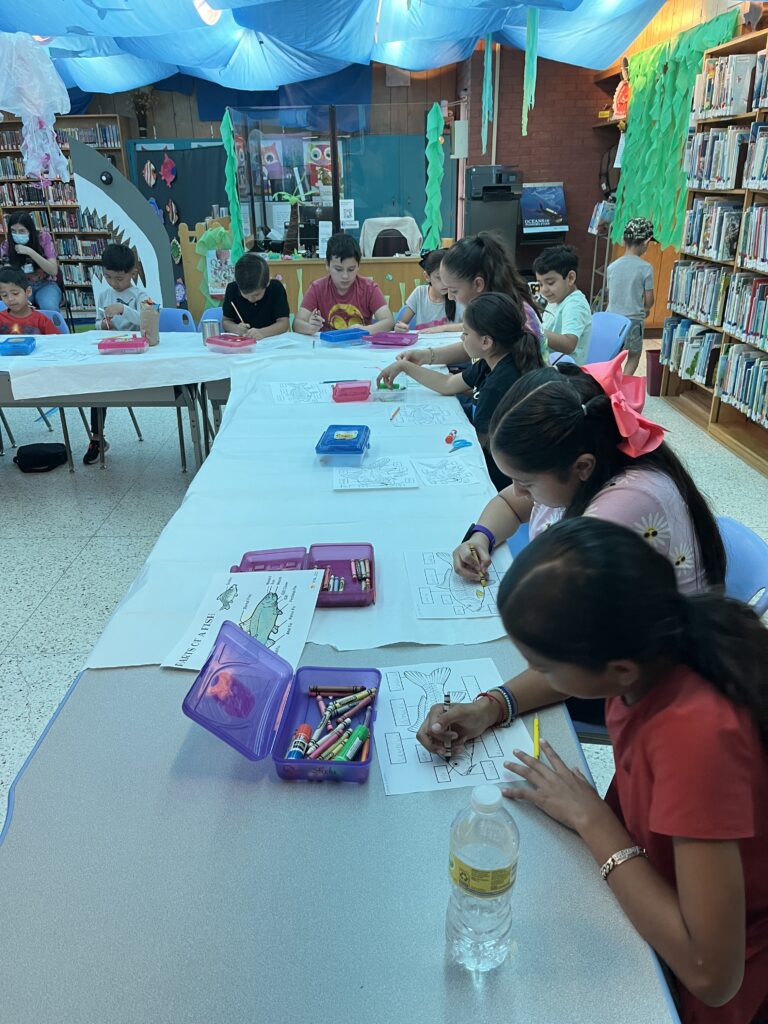 Miss Garcia says that according to the article, children in 3rd to 5th grades showed that students lost, on average, about 20 percent of their school-year gains in reading during summer break. 
"Our program schedule gives students time to read on their own, giving them access to a whole variety of books. We started a Reading Challenge to encourage students to read." She says, "In this challenge, students can earn points for each book they finish and test on. When they finish a book, they sign on to one of the computers, access a program, similar to the Accelerated Reader program they use in their schools, sign in to their account, and take a 5-question quiz on the book. If they pass, they earn points. Depending on their grade level, each student has a designated number of points they need to earn to complete the Reading Challenge. Once they complete the challenge, they get a prize!"
Lastly, Miss Iris Garcia wants to share with children that, "Reading is fun! Kids sometimes just need a little nudge or kickstarter." She says, "Bring them to visit the Library and expose them to the different kinds of books available. Anyone who claims not to like reading just hasn't found the right book yet."
Angie Lugo, Head Librarian thanks the local Walmart for awarding Ethel L. Whipple Memorial Library with a Summer Reading Program Grant once again.