Forensic Macro Photography at TSC
Updated: September 10, 2022
Advanced photography class teaches Law Enforcement to Identify the missing
Identifying bodies of missing, abandoned or murdered persons is tough work and can be grim. However, it is extremely important to be quick and efficient for both the law enforcement agency involved and for families and loved ones waiting for closure.

Texas Southmost College offers a Forensic Macro Photography course, in two sections, that allows officers and future officers a chance to learn, sharpen and advance a highly in-demand skill. Graduates will leave the course able to provide a valuable tool to a department that can save thousands of dollars per identification.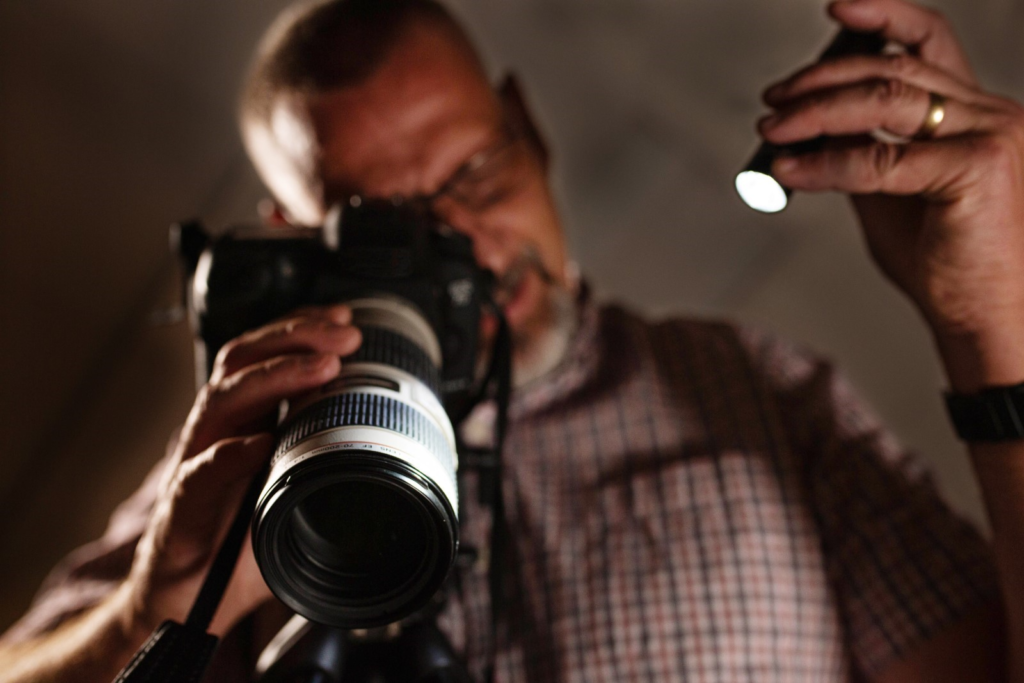 When it comes to learning a craft that includes taking high-quality photos of missing persons that may have been decomposing for weeks, months, even years, it pays to learn from an instructor with decades of in-the-field experience.

That's where course instructor Thomas Kimbriel comes in, bringing in-the-field experience to the program. He explained that this skill is helpful for all types of searches from crime victims and cold cases to migrant fatalities to missing elderly.

"It doesn't matter why the body has been encountered," Kimbriel said. "If it's a murder victim it's the same thing, the quicker we can start on reconstructing the person's last 72 hours, the better chance of getting a successful resolution. We're talking about getting I.D.s in less than a week which costs an agency nothing compared to getting DNA."

Macro photography, using DSLR cameras, is valuable technology especially when it's difficult to get a fingerprint from a body.

"Because I have done this, I understand academic knowledge is important but what's even more important is practical knowledge," Kimbriel said. "There are a lot of practical exercises. The goal of the training is for them to become very confident in taking photographs and the paperwork associated with that."

Kimbriel's class teaches everything from the basics of the equipment to advanced practices of the trade.
"The photographs are very difficult to take so we start from the beginning," Kimbriel said. "We start to teach them how to use the camera in general and then we go into advanced techniques like painting with light, ambient light, long exposure photography for night crime scenes."
Advancing agencies
Kimbriel spoke about the value that can be created by efficiently identifying missing persons compared to the storage and DNA cost.

He spoke about a nearby county that deals with a high volume of deceased migrants.

"An identification after 3 days saved the department $3,500 on one case…that county is close to 200 bodies this year," Kimbriel said. "I could train three of their deputies, using their own equipment and that county would be self-sufficient for the cost of storing one body.

Director of the Criminal Justice Institute, Willemina Edwards, served as a Lieutenant in the Dallas Police Department. She emphasized the importance of Kimbriel's contributions to the police academy.

"His area of expertise stood out when we first brought him on board," Edwards said. "He is a subject matter expert on crime scenes. Adding intermediate crime scene is a benefit to in-service officers who are already in the field. He's brought more technology into the courses. We're looking into adding specifics on advanced fingerprinting, 3D scanning. We're building out an advanced crime scene certification process."

Kimbriel spoke about the support from Texas Southmost College has allowed him to provide realistic scenarios and mock-crime scenes.

"It's been wonderful," he said. "I must have a certain number of kits and equipment to do the cases. I have my own classroom with everything I need to support that. We have a car to do crime scene analysis. Our students get realistic, real-world scenarios to be able to take these photos."

This class is an attractive option for police officers looking to fulfill annual Texas Commission on Law Enforcement credits.

The course is five days in a row with a short break between sections to ease scheduling for the agency sending an officer for training. Each section is set at $500, which Kimbriel says is a huge value for the skills attained during the course.

While the course provides great benefits for current law enforcement officers, you do not need to be a sworn officer.

For information on registering for the course, you can reach out to Mr. Kimbriel at (956) 295-3724 or can e-mail [email protected]