Los Fresnos CISD Holds Teacher of the Year Banquet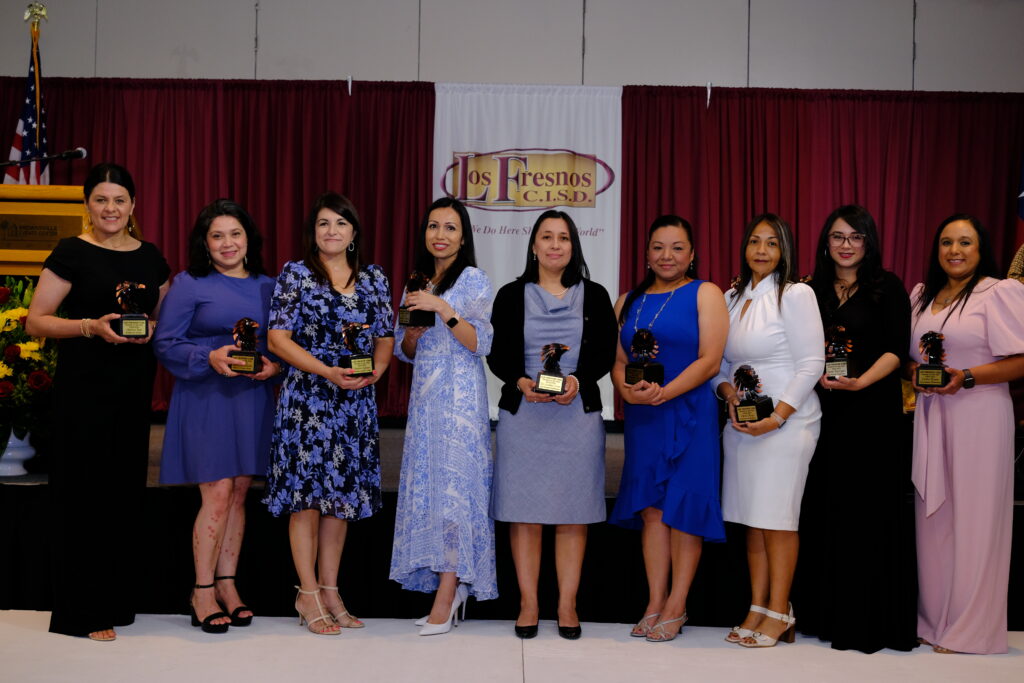 The Los Fresnos CISD announced the Elementary and Secondary District Teacher of the Year recipients during the annual Employee Awards Banquet.

Mrs. Sandra Salazar, a Dyslexia Lab teacher at Palmer-Laakso Elementary, was named the Elementary District Teacher of the Year.

Mr. Luis Muniz, a CTE Phlebotomy teacher at Los Fresnos High School, was named the Secondary District Teacher of the Year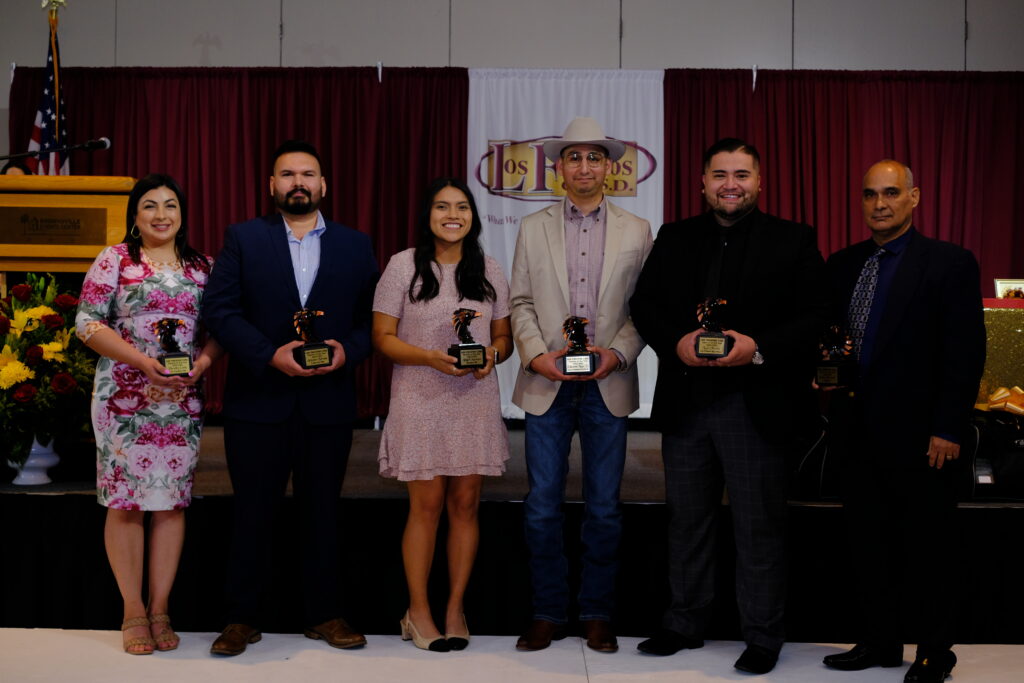 The winner, selected from the overall pool of campus Teacher of the Year winners through essays submitted by campus principals to a district level committee. The essays gave a comprehensive look at how these educators positively impact the lives of their students daily.
Mrs. Sandra Salazar, Elementary District Teacher of the Year

When Sandra Salazar reaches into her reading toolbox, the Dyslexia Lab educator is ready to serve all. The veteran educator of 21-years lays a foundation for improved reading and proficiency that transcends the classrooms of Palmer-Laakso Elementary School.

Students are excited about stepping into Salazar's classroom. She provides a warm and inviting environment that enhances their learning experience. They describe her as patient, kind, and understanding. They're qualities that she also exhibits when meeting with parents of dyslexic students, to whom she lends additional support. "Her commitment and dedication is like no other. She is a true leader and is deeply respected by all. She is the true meaning on an elite and master teacher," said Ontiveros.
Salazar's influence extends well beyond her students. While she serves in the role of coach for Spelling Bee, she also coaches her colleagues on techniques to improve student reading. She is lauded for providing her knowledge, expertise, and resources to encourage student and educator growth. "Teachers reach out to her to learn new ways for teaching reading. She is very positive and willing to lend a helping hand," said Celia Ontiveros, Principal at Palmer-Laakso Elementary School.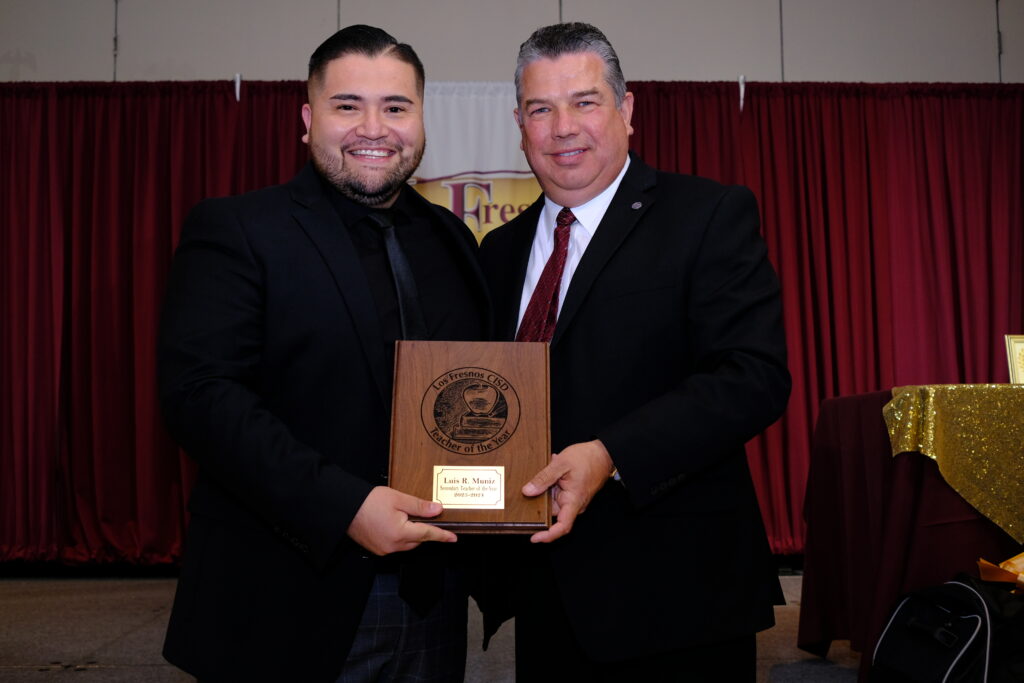 Salazar says she enjoys assisting new educators on their path to professional growth. But the most impactful part of her job, she says, is seeing former students who thank her for teaching them how to read.

Mr. Luis Muniz, Secondary District Teacher of the Year
A chance encounter with Los Fresnos High School students at a HOSA competition was all Luis Muniz needed to convince him he needed to become a teacher. Muniz joined the District in 2020 as the Phlebotomy and Patient Care Technician (PCT) instructor at Los Fresnos High School.

In his short time with the District, Muniz has made a big impact. He has opened innumerable doors for students in the Career and Technical Education Health Science pathway. Muniz has used his network of professional resources to create opportunities for students to obtain real-life experience in the medical field, including rotations at a local hospital. "Mr. Muniz sets expectations high, ensuring students leave his class with certifications and skills that will make them successful in the health care field," said Justin Stumbaugh, Principal of Los Fresnos High School.

Muniz's students praise his ability to create not just a positive classroom culture, but a family atmosphere. "Mr. Muniz is able to build and sustain relationships with students which promotes and enhances a student-centered classroom. His compassion, grace, and positive energy will leave a mark in their hearts," said Stumbaugh.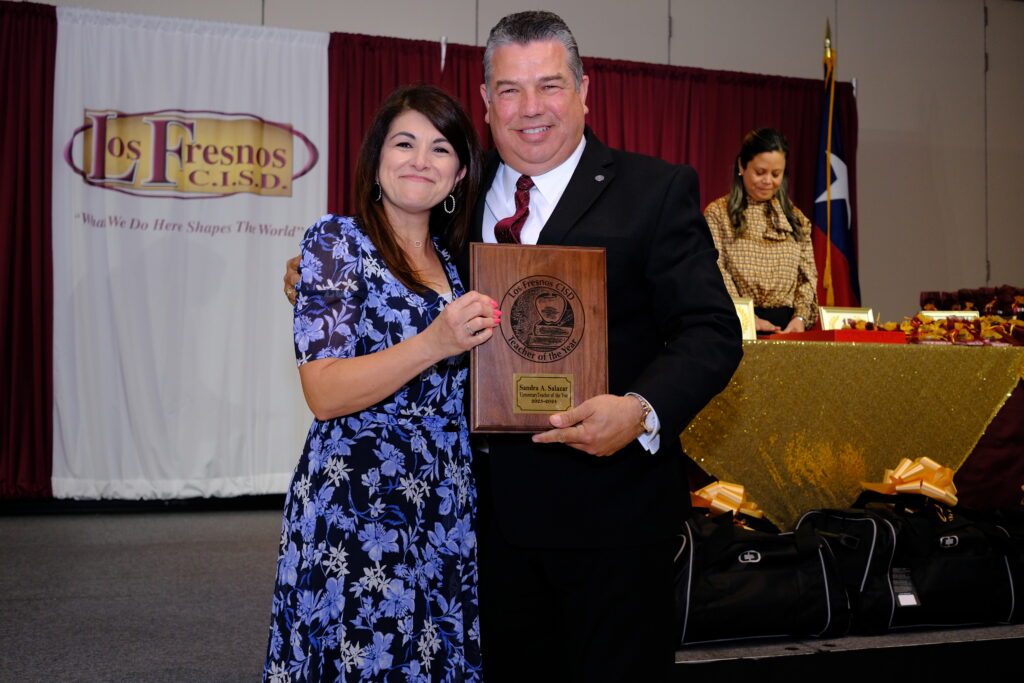 After hours, you will find Mr. Muniz promoting and supporting student accomplishments. He is also modeling professional growth and continuous learning by working to obtain an administrative certification.

Sandra Salazar and Luis Muniz will go on to represent Los Fresnos C.I.S.D. at the Region I Teacher of the Year presentation.

The 2022-2023 Teacher of the Year Recipients are:
Teacher of the Year Recipients for Secondary Schools:
Luis Muniz, Los Fresnos High School
Eduardo Lugo, Jr, Los Fresnos United
Hubert Haylock, Alternative Education Center
Dorothy Coria, Los Cuates Middle School
Bernabe Alejandro, Liberty Memorial Middle School
Abigail Martinez, Resaca Middle School
Teacher of the Year Recipients for Elementary Schools:
Oralia Rivera, Dora Romero Elementary
Alma Moya, Laureles Elementary
Dr. Carolina Cowan, Los Fresnos Elementary
Michelle Rojas, Lopez-Riggins Elementary
Sarai Rodriguez, Las Yescas Elementary
Sandra Salazar, Palmer-Laakso Elementary
Maria R Ramos, Olmito Elementary
Nicole Gomez-Mendez, Rancho Verde Elementary
Melissa Leal, Villareal Elementary